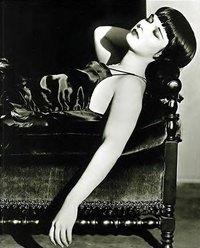 The 1920s were marked by economical growth and new waves of fashion and entertainment. The 1920s bred a new wave of women called flappers. Characterized by their short bobs, dark makeup and party antics, these women had a large impact on the makeup and fashion trends that evolved during the 1920s. Jazz music was very popular during this time and influenced the wardrobe and makeup of the flappers. In order to create a 1920s look, you must have the proper makeup.
Things You'll Need
Foundation
Concealer
Eyeliner
Mascara
Powder
Eye shadow
Blush
Lipstick
Lip gloss
Apply face makeup. Using a damp sponge, foundation brush or your fingers, apply your foundation. Face makeup during the 1920's was very fair, making the individual's complexion look very light. If you have fair skin, do not darken it with a bronzer.
Set your face makeup with a translucent powder. Apply it with a powder brush. If necessary, apply more than one layer. The end result should be very matte with no visible sheen. If you want to add a little color to your cheeks, apply a light pink blush with a blush brush.
Apply a nude or champagne colored eye shadow to your lids with an eye shadow applicator or eye shadow brush. Since the makeup of the time was fairly nude, you want to keep the eye shadow very simple. It isn't necessary to use a darker color to contour your eye.
Apply a thin layer of black eye liner to your eyelid. Liquid eyeliner will give you the thinnest line. Make sure you only line your upper lash line. Curl your eyelashes with an eyelash curler. Follow up with a coat of black mascara. Apply an extra coat of mascara if you desire thicker lashes.
Apply lipstick. Line your lips with a dark red or reddish brown lip liner. Apply a red wine colored lipstick to your lips. You want your lipstick to look very dark. Many individuals will say it almost looks Gothic. Blot your lipstick with a tissue. If you want a darker lipstick color, apply black lip gloss over your lipstick.