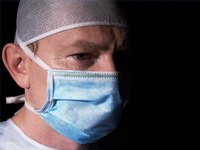 Wearing a surgical mask is a necessity for many doctors, including dentists and surgeons. A surgical mask works in two ways—keeping the doctor's germs from threatening the patient's sensitive immune system, as well as keeping the doctor free of illness. In countries like Japan, surgical masks have become an everyday accessory for many men and women who are conscious about breathing in city smog and germs from contagious people in public areas. Whether you are a doctor or someone who wants to stay healthy, there is a correct way to wear a surgical mask to protect yourself and others.
Things You'll Need
Surgical mask
Soap and water
Wash your hands. Make sure to always wash your hands thoroughly with soap and water before you touch your surgical mask.
Follow the instructions on your particular brand of surgical mask. All brands specify not to use the mask if it has been previously worn or taken out of the packaging. You should wear a new mask each and every time.
Put on the surgical mask with clean hands. There should be a metal strip that will bend to fit around your nose—make sure this strip is covering your nose, not your mouth. If the strip is covering your mouth, the mask is upside down.
Tie the elastic strings to hold the mask to your face. Be sure the strings are snug but not too uncomfortable. Once you have tied the strings, the mask should be covering your mouth, your nose and your chin.
Once you have adjusted the mask to your liking, wash your hands. Do not touch the mask again until you need to remove it, but be sure to wash your hands before removing or touching the mask for any reason. Do not touch the outside of the mask; try to handle only the inside or the elastic strings. Wash your hands again after removing the mask.
To dispose of the mask, wrap in a plastic bag and tie securely. Wash your hands one final time after throwing away the surgical mask.