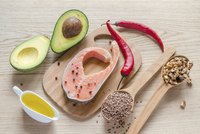 When your body attacks its digestive tract when you eat certain foods, damaging the villi that help you absorb nutrients, malnutrition and weight loss can occur. This happens when people with celiac disease eat foods with gluten, a protein in wheat, rye and barley. To gain weight with celiac disease, you first need to heal your gut, and then eat enough calories to add pounds. Consult your doctor or dietitian to help you design a healthy, weight-gain meal plan.
Going Gluten-Free
To gain weight with celiac disease, you first need to omit all gluten from your diet. That means eliminating all foods that contain any form of wheat, barley or rye, which could be in breads, cereal, pasta, frozen meals, fast food and a variety of processed foods such as soups, french fries, salty snacks and candy. Instead, fill your diet with naturally gluten-free foods such as fresh fruits and vegetables, meats, fish and poultry without added sauces, legumes, nuts, seeds and gluten-free grains such as rice, millet and quinoa.
Determine Your Calorie Needs
Eating more calories than you burn promotes weight gain. Your daily calorie needs to gain weight depend on your gender, age, activity, health and body size.
Estimate your weight-gain calorie needs by determining how many calories you currently eat, then add 250 to 500 calories to that number. Increase the amount as needed and tolerated. For example, if you normally eat 1,800 calories a day, you would need 2,050 calories to 2,300 calories a day to start gaining weight. Continue to track both your intake and weight to stay help you stay on target.
High-Calorie, Gluten-Free Diet
For healthy weight gain, include mostly nutrient-rich, high-calorie gluten-free foods. Good choices include nuts, seeds, dried fruit, avocados and healthy fats such as olive oil and safflower oil. High-fat healthy proteins, such as fatty fish like salmon and tuna, eggs, cheese and full-fat yogurt and milk, also make a good choice. Gluten-free grains are also a good source of calories, including brown rice, quinoa, millet and amaranth.
If you don't have the appetite to eat, you may want to consider gluten-free nutritional supplements to help boost calorie intake. One of these drinks usually contains about 250 calorie.
Mealtime Tips
When trying to gain weight with celiac disease, it's important that you try to eat three meals a day and not skip meals. Eat your biggest meal when you have the best appetite, and keep mealtime pleasant and fun by cooking with friends or making favorite dishes.
Also, include snacks between meals to help up your caloric intake. Keep them handy and ready to go to make snacking for extra calories easy. For example, you can fill resealable containers with 1/4 cup of mixed nuts for a quick and healthy 200-calorie snack.