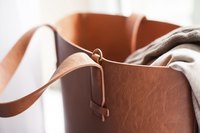 All kinds of handbags may sag, bend or become damaged when they're not stored correctly. All it takes is a few organizing guidelines to safely store your purses, extend the life of your totes, and make your closet look neat and functional. Start by placing the ones you use the most on handy hooks, then get to work organizing the others in your collection.
Display Them
Take a cue from designer boutiques and display your handbags on a high shelf in your closet. If you don't want to cover the bags in pillowcases or dust bags, place them in transparent or mesh boxes – so you can see your collection clearly. To keep your bags upright, stuff them with acid-free paper or in their individual cloth dust bags. To prevent your handbags from fading, make sure that the shelf and your handbags are at least 6 inches away from any naked, overhead light bulbs.
Hang Them Up
If you are short on closet space, drape a rod or hook over your closet door to store your top-handled bags and satchels. Hanging your bags from hooks prevents large bags from losing their shape or sagging in the middle. Divide them by color, season or designer, so you can easily find the right bag when you're looking for it. Or suspend shoulder bags from the ceiling using S hooks that you can buy at a local home improvement or hardware store.
Divide and Conquer
Look no further than your office supply or container store for storage inspiration. File away your smallest bags using upright acrylic shelf dividers, or put two together in a plastic storage container with a lid. To keep your purses sorted, dedicate one or two containers for dark-colored purses, another for brights. When storing fabric and beaded clutches plastic boxes during the fall and winter months, place acid-free tissue paper between the bags to prevent scratches and scuffs.
Storage Dos and Don'ts
Resist the urge to store purses within purses. While doubling up your purses is a way to save space, you may stretch your clutches and handle bags beyond repair.
Keep your suede purses separate from each other to prevent the colors from mixing, and never store wet or damp leather handbags. Let wet bags air-dry overnight in a cool place, then stuff the inside with white tissue paper or old T-shirts to help them retain their shape during storage.