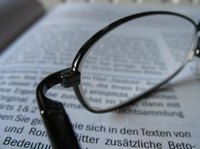 Astigmatism is a common vision disorder that may result in blurred vision if left untreated. This vision disorder occurs when the cornea is not a perfect sphere. An astigmatic cornea is often described as being more "football shaped" or "egg shaped" than round. As a consequence of this imperfection the image projected onto the retina is distorted. Astigmatism is diagnosed during a routine eye exam. Corrective eyeglass or contact lenses for astigmatism (toric contact lenses) are an effective treatment for the vast majority of individuals with astigmatism. Preventing issues with your lenses when you have astigmatism can be done with some help from your eye care provider. These professionals and the steps below can walk you through choosing frames and lenses appropriate for your astigmatism correction.
Obtain a current vision exam from a licensed eye care professional. At the end of your examination, ask for a copy of your prescription in writing.
Discuss your prescription with your eye care professional. Some astigmatism corrections do not require special handling. Your eye care professional should be able to determine if you might have a problem with your eyeglasses as a result of your astigmatism. In general, any astigmatism correction numerically higher than a cylinder +1.50 or -2.50 should warrant special consideration of your lenses and frames.
Choose the smallest frame possible that fits comfortably. Your eyes should be centered in the middle of the frame, and the sides of the frame should touch your temple lightly. Avoid over-sized lenses or frames that wrap as these will induce distortion in the periphery of the lens.
Select hi-index plastic, Trivex or plastic lenses. If you have concerns about adapting to your new lenses, do not purchase polycarbonate lenses, a popular light-weight option. Although impact resistant and relatively inexpensive, polycarbonate lenses have the highest amount of innate distortion that may make adapting to your new prescription more difficult. Keep in mind polycarbonate or Trivex lenses are required for safety glasses and are highly recommended for sports glasses and small children.
Ask your eye care professional to closely match your measurements to your old glasses, if available. If no prior glasses are available, ask that these measurements be taken twice in order to assure accuracy. The most common measurements required for a prescription are the P.D., or pupillary distance, and the O.C., or optical center. Have your eye care provider write these measurements on your copy of the prescription so that you can refer to them for future prescriptions.
Wear your new prescription first thing in the morning. Your first day of wear should always begin when you first wake up, before you use any other corrective lenses or contacts. This reduces eye and muscle fatigue and eases transition into the new prescription. If you are a regular contact lens wearer, plan a day of wearing just your glasses in order to determine if your new prescription and frame are comfortable.
Use your glasses for several days (at least three to four) prior to returning to your eyeglass provider for adjustments. If, after three to four days, your vision seems blurry, return to the location you purchased your eyeglasses from.
Bring your old eyeglasses with you if returning for an adjustment. Often small adjustments to your frame can be made which impact the way your prescription feels. These adjustments are best made by the individual making your glasses and whenever possible they should try to match the fit of your new frames to the fit of your old frames. Be sure to bring the original copy of your written prescription so that your eyeglass provider can verify that the new glasses were made according to the written prescription.
Wear your adjusted eyeglasses for another three to four days after any adjustment. If after this time frame your vision still seems blurry return to your prescribing Ophthalmologist or Optometrist to have your vision re-evaluated. Be sure to bring your new and old eyeglasses with for further evaluation. Return to Section 1 Step 2 if needed.