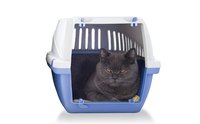 Many people feel a sense of wanderlust and adore exploring the world and moving to new places, but it's likely your cat doesn't feel the same way. Moving can be a frightening and confusing experience for your feline, but there are some steps you can take to reduce some of the anxiety she'll feel before, during and after the big move.
Before You Go
Cats are incredibly intuitive, so it's likely your kitty might realize that something is happening before it actually happens. Place your moving boxes around the house so your cat becomes familiar with their presence and scent. If your kitty spends a lot of time in one room, such as your bedroom, you may want to close her off away from the chaos and let her lounge on her favorite windowsill, or sleep peacefully at the foot of your bed.
You may use a carrier, but don't close her inside. Leave the carrier open and place familiar toys, treats and bedding inside. Allow your kitty to come and go from the carrier as she pleases, so she associates it with something that is uniquely hers.
In the Midst of Chaos
Your cat may require the most care during the critical time of the move itself. Doors may be left ajar, and in the chaos and confusion, your kitty could easily escape in search of a safe place. Consider confining her to the bathroom, especially while movers are present. Movers are focused on moving, and a kitty could be lost or injured during this chaotic phase. To assure your kitty a comfortable stay in her temporary quarters, be sure to provide:
Her bedding
Litter box
Something familiar, such as her toys or scratching post
Food
Water
When it's time to go, place your kitty in her carrier. Never attempt to move her without placing her in a secure environment. She may try to flee.
Upon Arrival
Your kitty may find herself a connoisseur and critic of bathrooms once the move is in her past, but upon arrival at your new home, consider confining kitty to the bathroom again. The chaos will be equally challenging when movers arrive at your new home. Bring your cat inside before the chaos begins, so she isn't more frightened by the presence of strangers. Leave her in the carrier with the door ajar. Place the same familiar items in the bathroom with her. Consider taking a radio into the bathroom to drown out unfamiliar sounds, especially if you normally have a radio or television on when you're at home with your feline friend.
The First Few Days
The chaos doesn't end for your kitty when the movers and moving van depart. Cats don't embrace change, so your feline friend will need adequate time to adjust. Keep her in one room with you, such as your bedroom. Place her food and water, litter box and bed in the room with you. Consider this as your "home base," while your friend becomes acclimated with her new surroundings. Once you've unpacked and become settled, allow your kitty to take short adventures into the rest of your home. If you don't have a second litter box, purchase one. Choose a permanent location for this second litter box, but place it just outside the home base room at first, moving it just a foot or two as each day passes. Leave the original litter box in her home base location until she's actively using the second litter box in its permanent place.