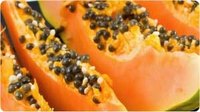 Some of the best natural products for lip wrinkles are papaya, egg whites and coconut oil. High in vitamins C and E, papaya can help lessen the signs of aging, as well as reduce already existing wrinkles. Found in every grocery store, this natural product does not contain any of the chemicals found in many of today's skin care products. Papaya is used in a variety of ways, from a moisturizing mask and exfoliant to an acne-clearing facial ingredient. To use the fruit in an anti-aging regimen, try the papaya lip treatment at least once a week for optimal benefits. Egg whites are also often used to treat or prevent wrinkles, and can be applied anywhere on the face. Pure coconut oil is a great moisturizer for lip wrinkles, and has a wonderful scent.
Things You'll Need
1 ripe papaya
1 egg
Coconut oil
Mash a ripe papaya into pulp. You can use a blender on a pulsating speed, or you can do it by hand. Doing it with a blender may turn it into a liquid, which you can still use by just applying the juice to the lips with a cotton ball.Adding other ingredients such as yogurt or honey can also provide extra moisture to areas with wrinkles. Leave the juice or pulp on for 10 minutes and rinse it away with cool water.
Use egg whites to also reduce the appearance of lip wrinkles. Take one egg white and apply it to the lip area with a cotton ball. Allow the egg white to dry and wipe it away with a warm cloth. Apply a creamy moisturizer to the area to keep it hydrated and wrinkle free.
Prevent wrinkles by applying pure coconut oil to the lip area every night before bed. Found in many stores, this oil leaves skin feeling hydrated on the entire face.