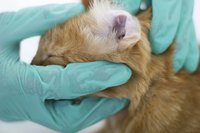 As one of the most prevalent external parasites on cats, ear mites are a common health issue faced by pet owners across the country. These tiny pests damage the sensitive skin inside your pet's ear, which prompts frequent itching and other abnormal behavior. They are highly contagious among pets, but do not establish colonies on humans. Ear mites are usually treated by applying a medicated liquid solution on the ears as instructed by a veterinarian.
Common Symptoms
Many pet owners don't realize there's a problem with their kitty until they notice persistent scratching and other signs of discomfort. Cats suffering from ear mites tend to rub their head against solid objects to relieve the itchiness. A little scratching is completely normal, but constant head shaking and scratching indicate a health issue. These symptoms aren't conclusive or unique to ear mites. Some cats with heavy infestations show few signs, while others develop symptoms with only a few mites present, according to Companion Animal Parasite Council.
Visible Signs
Many pet owners recognize ear mite infestation due to the dark, waxy substance that develops inside their pet's ear. This discharge begins as scattered specks, but builds up into waxy layers as the infestation grows. You may notice damage around the ears from your cat's constant scratching, including rashes, open wounds, blisters and blood residue. Ear mites can infest skin elsewhere on your cat's body, although they usually are found around the ears. Mites are barely visible to the naked eye, so you may not see any even if they are present.
Secondary Infections
You should seek medical attention for your pet if she shows signs of ear mite infestation. Over half of all ear disease cases diagnosed in cats can be traced back to ear mites, according to VCA Animal Hospitals. The damage caused by these parasites leaves your cat open to infection from other sources, which can seriously jeopardize her health. Hearing loss and other serious complications can arise from these opportunistic infections. You may notice progressive swelling and foul-smelling discharge if your kitty's ears are infected.
Identifying Infestation
Even if you believe your cat has ear mites, you should consult a veterinarian before treating the condition. There could be secondary infections present, so your vet has to rule out other disorders before recommending a solution. Medical professionals look into the ears directly or examine a swabbed sample through a microscope to confirm infestation. Adult mites are only a fraction of an inch long. They have a dark-colored, circular body with appendages protruding from both ends.