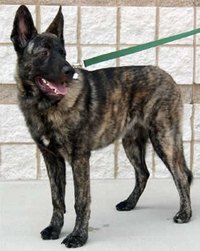 The Dutch Shepherd dog started out in the southern part of the Netherlands as an all purpose farm dog in the late 1700s. It was expected to guard the farm, herd sheep, pull carts, as well as perform other menial tasks. It became popular several decades later throughout Holland and many surrounding countries because it was so easily trainable, obedient, energetic and amiable. Ultimately the dog's pleasant personality led to the breed's downfall. The popularity of the breed dwindled a short time later in favor of the larger and more aggressive German Shepherd. People wanted a dog that did more than bark and posture at a potential threat or intruder. The Dutch Shepherd just did not have the violent streak necessary to attack when it was ordered to. Thus, the breed is virtually unknown outside of Holland. Because of the breed's rarity, many people would not recognize a Dutch Shepherd.
Start by judging the dog's dimensions and weight. The dog should stand between 23 and 25 inches high at the shoulder and weigh an average of 66 pounds. The dog should be about as long from chest to hindquarters. The dog's limbs will be sturdy, though not thick. The paws should be relatively small with fur between the toes. The claws should be long and prominent, though this breed will not have dewclaws. Both the chest and belly are deep, stopping just short of the elbows on the dog's forelegs. The tail should hang down a few inches short of the ground rather than standing up.
Examine the dog's head. The head should be very similar in shape to the head of a German Shepherd. The skull should be wedge-shaped with a long muzzle pointed slightly along the top edge of the nose. The tongue of the Dutch Shepherd is abnormally long. This breed has a habit of letting the tongue loll out of the mouth. One aspect of the head that differentiates it from the German Shepherd is the ears. A Dutch Shepherd's ears stand close to the top of the skull and are very narrow at the base. These ears are always held rigid and are long, coming to sharp points.
Look at the dog's fur. There are actually three subspecies of this breed divided by the length and quality of the fur. One has short, uniform and coarse hair; another has long, uniform and coarse hair. The third has wiry hair of unequal length, giving it a patchwork appearance. The coloring of all three types clearly marks out the breed. The dog will have a brindle or patchwork series of colors including gray, yellow, silver, red, gold and blue. The overall appearance of the coat and the color resembles a hyena.