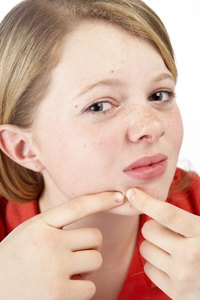 Oil-clogged pores are the root cause of pimples. To avoid getting pimples, you must keep your pores from getting clogged with oils. But that doesn't mean constantly washing your face -- that can cause problems too. Keep your face clean and avoid touching it to fingers and hands ... and other items that might carry oil to your face.
Things You'll Need
soap/facial cleanser
exfoliator
Wash your face no more than two times a day. Wash your face every morning when you wake up and every night before bed.
Remove makeup before bed. The makeup will clog your pores and can easily cause pimples.
Use a facial exfoliant after cleansing your face at least twice a week. This will help unclog pores and prevent any breakouts. No matter how many times you clean your face, traces of dirt and oil often stays lodged in your pores.
Don't pop pimples; this pushes infected materials further into the skin.
Don't touch your face with your hands or onto other items that can carry oils to your face.