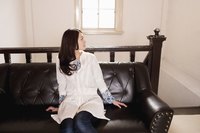 Managing to look good while you're feeling comfortable is a challenge, regardless of what you're doing. Perhaps it's a weekend of errands, a long drive or a plane ride, but no doubt there are times you'd like to both feel good and look good. With a few strategic combinations, you can compose outfits that feel like you're wearing pajamas, but have you looking like you're dressed for the day.
Fashionable Fabrics
Comfortable clothing is often all about the fabrics. Choose soft fabrics that wash-and-wear or can be handwashed at home. While cotton knit is tempting, it's often a bit sloppy. For women, ponte knit, wool jersey and good quality microfiber fabrics will offer a comfortable alternative to cotton-knit sweats or yoga pants. For men, soft-woven cottons are a practical choice. If you opt for denim, choose a soft, pre-washed denim, rather than a firmer and sturdier one.
Fit With Flair
Comfortable fit depends on the fabrics. If you're wearing woven fabrics, choose looser garments, rather than those that fit too snugly. Stretchy fabrics, including ponte knit and microfiber, are well suited to a tighter fit. To keep your comfortable clothes looking stylish, avoid pairing multiple loose-fitting or oversized pieces. Baggy pants plus an oversized sweater will look sloppy, but the same sweater with a slimmer pant will produce a look that's both comfortable and chic.
Outfits for Men
Whether you're suiting up for a laid-back day or a casual vacation, you can rock comfortable and stylish outfits. Choose dark denim jeans and casual cotton chinos, to look crisp rather than crumpled. Add a fitted T-shirt and a casual, tailored jacket. A slim-fit hoodie, in a high-quality fabric, will even mesh well with a casual wardrobe. While it's a bit harder to manage and still look good, high quality athletic pants are also acceptable for very casual settings when worn with an athletic-cut tee.
Outfits for Women
Build up a comfortable and chic wardrobe from a variety of soft and stretchy pieces, for weekends, working at home or travel. Opt for leggings, knit dresses, skinny jeans or jeggings, tunics, loose cardigans and long tees. Yoga pants can be tempting for comfortable everyday wear, but skip the yoga tank. Try a long knit tunic in place of a yoga tank to create a look that can go places other than the gym. Scarves and flat boots or ballet flats can finish your outfit with an added dose of style.