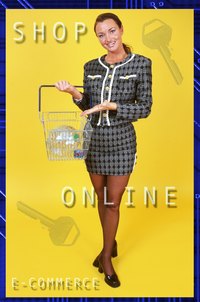 One of the first lessons of running an eBay store is that you should not rely on eBay to send you traffic. eBay is a crowded marketplace, so don't count on people finding you on their own. A little extra work, a few tools and off-eBay links can work wonders in building your eBay business. Of course, eBay is a useful platform, and you do get to leverage their brand recognition. But for the most part, visitors come to eBay to find specific goods for sale, they usually don't go to eBay to find a specific vendor. It's up to you to drive traffic to your eBay store and individual eBay listings.
Public Relations
When people see you as an expert, they are more likely to trust you and visit your eBay store. If you sell a niche product, establish yourself as a thought leader outside of eBay. Publish a blog that discusses issues and common problems your target audience may have, and offer some information of real value. Write articles on the subject and submit them to online journals, and you could even host an online event such as a learning webinar to reinforce your position as an expert. Supplement these special events with press releases, and make sure that wherever possible, you include links to your website and eBay store.
Creating Great Titles on eBay
Your listing title does more than describe your product, it serves as a foundation for potential buyers conducting searches. Make sure your title is descriptive, includes the actual name of the product, and contains keywords that reflect what people are likely to be searching for. Avoid packing your titles with meaningless come-ons and superlatives, excessive punctuation or exclamation points – instead, use words that speak to the search engine. Listing titles with words like "Look!" "Fabulous!" and "Brand New!" won't get found.
Advertising your Auctions
Some of the most successful eBay sellers advertise listings outside of eBay, on their blogs, other websites, and digital classifieds. Tools like Google AdWords aren't free, but you can start out with a small budget to test results. After signing up for an AdWords account, you simply bid on keywords, and create an online ad which is delivered along with organic search results. AdWords is pay-per-click (PPC), which means you pay only when somebody clicks on your ad. Non-traditional advertisements that cost nothing can be something as simple as creating an email signature that includes a link to your eBay store.
Driving Traffic from Social Media
Social media presents a wonderful and free tool for driving traffic to your listings. As you move forward in your business, encourage your customers to "like" your Facebook page, and be sure to make good use of visually-oriented social media tools like Pinterest as well. Add links to your eBay store and listings whenever possible. Make regular posts with plenty of pictures, and links back to your eBay listings, and encourage your followers to share and comment.
Search Engine Optimization
Your eBay shop allows you to input keywords and key phrases, which will make it more likely somebody conducting a search either from within eBay, or a generic Google search will find your specific listing. There are no dark secrets to search engine optimization (SEO), which consists primarily of writing good, descriptive content, making sure to use the right keywords and key phrases in your descriptions, and establishing as many relevant links to your eBay store and listings from other sites.