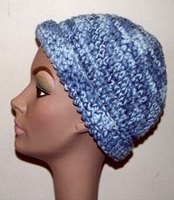 If you have ever done a little shopping in small boutique shops, you have seen the price of handcrafted hats and scarves. If you can handle crocheting a simple stitch, then you should be able to crochet your own hat. You will not need to learn a whole new language to read a crocheting pattern. You will be crocheting hats for everyone you know in a matter of weeks.
Pick a suitable color yarn for your hair and skin type--or for whomever you are making it. Feel the yarn for its softness. If you get yarn that is soft and fuzzy, it will help in the warmth of your hat overall. Generally a one-pound skein is plenty.

Make a simple slip knot and put your crocheting needle into the formed loop. Crochet a row of chain stitches that is the width of your head circumference. Crocheting does not stretch like knitting, so do not make it too small or too large. Keep the row straight.

Start the second ring by starting a double crocheting stitch (or whatever stitch you prefer) in the loop of the first stitch, now completing the circle. Make sure the first row is straight or you will end up with a twisted ribbon that is good for nothing. Now just crochet away, one stitch after the other until you have done six to eight rows. Now, to make the rounded shape on the top of the hat, continue crocheting the double stitch, but skip a stitch every six stitches for the next six to eight rows.

Continue dropping stitches until your circle is about three inches wide. Now drop every other stitch. The top of the hole should close in rather quickly until you get to the last four stitches. Pull the yarn through the last four stitches and pull to the inside of the hat after cutting it about six inches from the end. Knot it and weave it into the inside yarn of the hat, keeping it concealed from the outside.
Tips & Warnings
Use double pieces of yarn and a larger needle for an extra-thick hat.
Skip stitches less frequently for a long stocking cap.
Add a large pompom to the top for a younger look.
Photo Credit http://www.headhuggers.org/patterns/cpatt01.htm, http://www.cozyrabbitfarm.com/i/Hats%20Large/tn_100_2319.jpg,http://fullbodiedwoman.blogspot.com/2007/07/crochet-hats.html ,http://z.about.com/d/crochet/1/0/g/A/vstitch1.jpg
Promoted By Zergnet