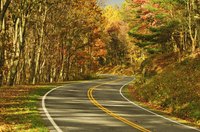 Picture high peaks blanketed with autumn color, peaceful meadows bursting with wildflowers, mountain vistas shrouded in blue mist -- Skyline Drive, in Shenandoah National Park, earns accolades from millions of annual visitors. The 105-mile paved parkway twists and turns through the Blue Ridge Mountains in southwest Virginia, offering hiking trails, camping and picnic areas, 75 scenic overlooks and a glimpse into America's natural heritage. One of the busiest times of year here is fall, when leaf-peepers come out to view the blazing colors of the Appalachian forests. Traffic on Skyline Drive can be a hassle, but the unforgettable scenery is worth it.
When to Go
There is no way to guarantee you'll hit peak color at a certain place and time, but experts say the last two weeks of October offer a good window to catch the change in seasons. The amount of color depends on your elevation, because leaves on the highest mountains begin turning before those in valleys. The direction the slopes face, the amount of rainfall the previous summer, and the dominant tree species also affect the forests' color-changing schedule.
Getting There
Skyline Drive, the only public road in Shenandoah National Park, runs along the crest of the Blue Ridge Mountains for 105 miles. There are four entrances to the parkway: Front Royal near Route 66, Thornton Gap at Route 211, Swift Run Gap at Route 33 and Rockfish Gap at Route 64 (the last doubles as the northern entrance to the Blue Ridge Parkway, which continues south). The best way to see a variety of fall foliage is to drive several miles anywhere along Skyline Drive and look out your windows. Alter your elevation to improve your chances of seeing blazing hues; the parkway travels over countless peaks and valleys.
What to See
Thick forests, farms and orchards border Skyline Drive on both sides, creating gorgeous vistas. Different species of trees and shrubs provide the richly variegated palette of autumn colors: Red maple and dogwood, perhaps the most dazzling types, turn eye-popping purple and crimson; ash, beech and poplar change to shades of reddish-yellow. Hickory and oak turn muted bronze and brown. At this time of year the park's wildlife is also fattening up for winter, so keep your eyes open for deer, raccoons or even bears crossing the road.
Visitor Centers and Lodging
Get your bearing at Skyline Drive's visitor centers. The Dickey Ridge location is a few miles past the Front Royal entrance. Byrd Visitor Center lies within the Big Meadows area, the park's most developed spot, with camping, restrooms, picnic areas and other services on site. The National Park Service's official concessionaire operates three lodging options along Skyline Drive. Two resorts -- Big Meadows Lodge and Skyland Resort -- offer rooms varying in style from rustic cabins to modern hotel suites. Guests who don't mind roughing it can opt for the Lewis Mountain Cabins, a group of furnished log cabins with private baths. In addition, the Potomac Appalachian Trail Club maintains six primitive cabins within Shenandoah National Park.