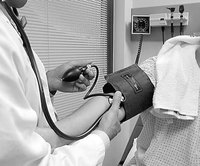 Low blood pressure, contrary to many beliefs, can actually be associated with many health issues. Low blood pressure can cause poor circulation, chronic fatigue, weak arteries, dizziness and even vertigo and fainting. Generally speaking, low blood pressure is characterized by blood pressure readings of 100/70 to 69 or below. It is caused by many factors such drug side effects, nerve disorders and poor diet. Hyping the blood pressure with natural remedies and herbs is quite simple. A 30-day program is recommended.
Things You'll Need
Herb guide to identify side effects and dosages
Book of food counts
Food items (See Steps)
Dietary supplements (See Steps)
Remove all fried foods, caffeine, foods high in cholesterol, and large amounts of read meat from your diet. These foods tend to slow down the adrenal system which, in turn, can cause other body systems to slow down.
Drink a 12-ounce glass of spring water with a lemon squeezed into it 30 minutes before eating breakfast. For low blood pressure, lemon juice hypes the liver and helps you digest foods so they can properly energize the body. Lemon juice is also a wonderful all-around tonic.
Eat 1/4 cup of oatmeal for breakfast. Oatmeal is an inexpensive and good source of complex carbohydrates. Complex carbohydrates are essential for healthy blood flow and energy. If you don't like oatmeal, foods like farina, grits and whole grain cereal will suffice. For flavor, add a banana. If you have low blood pressure, refrain from eating table sugar.
Drink a potassium drink with lunch for one month. Making a potassium broth is simple. It can be done by juicing 2 large carrots, 2 stalks of celery, 4 cloves of garlic, 2 radishes and a few pinches of parsley. If you don't have a juicer, drink 10 to 12 oz. of low-sodium vegetable juice. V-8 Juice is among the top brands. Potassium is an essential electrolyte that the body needs for healthy blood flow. A potassium deficiency is often at the forefront of low blood pressure.
Eat a leafy salad between lunch and dinner. Include onions, sea greens, organic beef chunks, carrots, peas and broccoli. This mixture contains very important macrobiotic ingredients that will help alkalize your body and balance your hormones and other chemicals, which is essential for healthy blood pressure.
Eat 6 ounces of lean, chemical-free beef and 1 cup of brown rice for dinner. Lean beef is wonderful source of protein if not over-consumed. Brown rice is a natural detoxifier and a good source of carbohydrates. Drink a 12-ounce glass of pure pineapple juice with dinner. Pineapple juice is high in bioflavonoids that are essential for strengthening the blood vessels and hyping the metabolism.
Eat 2 cloves of garlic 1 hour before bed time. Garlic, among its many health benefits, helps stabilize the blood pressure. Also, drink 1 cup of ginseng tea. Ginseng tea stimulates the circulatory and adrenal systems and is a safe and natural way to boost your body's energy while getting a comfortable amount of sleep.
Get a chiropractic adjustment once a week during your 30-day program. Misaligned joints, bones and muscles are often at the roots of many of the body's health issues, including low blood pressure and fatigue.
Do deep breathing exercises at least once a day. Concentrate on inhaling slowly for 3 to 5 seconds. Hold your breath for 3 seconds. Exhale slowly. Doing these exercises while taking a brisk walk is recommended. Walking and breathing exercises promotes healthy blood flow, essential for proper blood pressure. Take a brisk walk once a day for 20 minutes if you can.
Meditate for 30 minutes at least once a day. Meditation is wonderful way to allow the body to rest while awake. By resting and meditating, you give your body the opportunity to naturally recharge itself for optimum function.