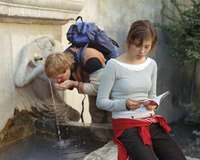 Backpacking through Europe has been considered a rite of passage for college kids or recent grads on their year out. However, economic strain has prompted travelers of all ages to embrace this budget travel alternative to see the world on a shoestring. Whether you are a seasoned traveler or new to this approach, knowing how to backpack smarter will make for an even better trip.
Picking Your Pack
It should go without saying that backpacking requires a backpack -- not a roller suitcase. Backpacks are more portable, have tons of compartments and handle the road much better than roller suitcases. Packs are available at all different price points, ranging from less than $50 to upwards of $1,000. If you are planning on traveling for over a month, have a bad back or knees or just want peace of mind, aim for a low-middle to middle range pack with back support, and always buy a pack that straps around your hips, which helps manage the weight of the pack and prevents injury. Look for a bag that has an opening both at the top and along the side for easy access to your things, and don't forget to buy a lock.
Stuffing Your Pack for the Road
Traveling staples such as toiletries and socks are available almost everywhere in Europe -- sometimes even cheaper than in the United States, so pack only essentials, as space in your pack is precious -- conditioning shampoo, comb or brush, bar of soap in a small plastic bag, nail clippers with file and the minimum amount of makeup and other luxury items. Make a simple first aid kit with adhesive bandages, antibacterial cream and possibly tape for sprained ankles. You can buy other products as needed along the way. Pack clothes that can be layered, mix-and-matched and are comfortable. Include a nicer outfit and shoes for special occasions, but leave accessories to a minimum. You have to carry everything you pack, so if you are unsure about something, ask yourself if it's absolutely necessary.
Hitting the Road
Research different countries, their culture, attractions, crime rates, cost and accessibility. Often the best place to learn about where to go is on the road; travelers are always eager to share good and bad experiences and advise fellow backpackers. Regard this information as more up-to-date than anything in a guidebook. Even though you may want to do it all, don't rush. You can always go back out after a rest, but you are less likely to revisit a place, so make your time there count. Get off the beaten path; sometimes the most memorable experiences come from unexpected places.
When to Go
Western Europe's peak season is during the summer months when schools are on break, while many people choose to visit Eastern Europe during ski season. If you are looking to meet as many people as possible and don't mind inflated prices or long lines, pack it up during peak seasons. If you're looking to save a bit of money, choosing to travel in the off season affords less crowds, lower prices and reduces your fight for accommodation. Shoulder seasons are a good compromise, if you can get away.
Where to Stay
Backpacking is usually synonymous with budget, and there are many accommodation options available in this price range. Hostels are the go-to answer for many backpackers, but prices can vary greatly as well as the quality of your room. In a hostel, you pay for a bed, usually in a room with strangers, but private rooms may be available at a higher cost. Hostels help you meet fellow backpackers, often have city discounts and tour deals and even may include breakfast and communal kitchens. If you are willing to put in a little work, you can find places to stay for free. Work exchanges are becoming more popular among budget travelers: In exchange for a few hours of work per day, you get a free bed and sometimes free food. Another free option is taking advantage of the open rooms or couches in locals' homes, called couch surfing.
Miscellaneous Tips and Tricks
Other things that can make your backpacking trip in Europe more memorable, less expensive and easier include using travel apps, being open and flexible during your trip and even sifting through the lost and found in your hostel. You never know what you might find -- hiking boots, a much needed raincoat or jacket, even laundry detergent. Keep in mind that Europeans do not tip as Americans do; tipping is not mandatory and is only encouraged for excellent service, and in smaller amounts, because tax and tip are generally included in your bill under VAT.