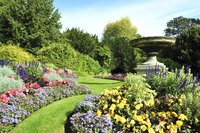 Whether you want to create privacy around particular areas of your yard, extend a warm welcome to visitors to your home or show off your talent when it comes to growing unusual plants, choosing border plants requires planning and forethought. Once you've determined the purpose of each border, you can take into consideration the basics that tell you which plants make good partners for the space available.
Sun and Shade
Before you select your first plant, assess your borders to determine the amount of sun they receive. As a rule of thumb, six or more hours of sun put an area into the full sun category, four to six hours indicate partial sun, two to four hours make partial shade and less than two hours means shade. Choose only plants that are suited to the sun exposure of each border area.
Soil and Drainage
Not all plants have the same soil and moisture needs. If you don't already know, determine whether your soil consists primarily of sand, silt or clay. Sandy soil is gritty and loose in your hand and drains quickly. Clay soil has a sticky feel to it, holds together when squeezed in the palm of your hand and tends to hold moisture. Silty soil has a smooth feel to it, has a texture somewhere between sandy and clay and holds a moderate amount of moisture. Research the soil requirements of each plant you are interested in to determine how it will perform in your type of soil.
Size and Shape
Consider the size of your border before selecting plants with which to fill it. If the border adjoins a walkway, make sure the plants you choose are not so large they spill out and block the path. Consider height as well. Avoid tall plants in front of windows where they'll restrict the view from inside the house. Plants that grow up and not out work well for narrow borders, while those that grow bushy will fill a larger space without getting lost in the scenery. Realize that larger plants, particularly those that tend to be heavy, may require staking to hold them upright in the space. If the plants will be next to a path or walkway, avoid those with thorns or sharp parts.
Theme Borders
Add a touch of whimsy to your borders by creating a theme and choosing plants that fit it. Determine whether you want a border that contains colorful blooms or one that's simply filled with a variety of green or colorful foliage. Consider planting all herbs in the space just outside the kitchen where you can snip and clip them for meals. If you have a favorite color, choose two or three types of plants with blooms in varying shades of that color with which to decorate a border along the front walkway.