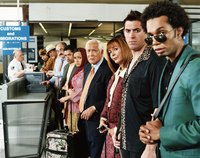 Flying back to the U.S. after a vacation to Europe or a business trip to Asia requires you to pass through Customs. Your turn will go quicker if you're organized with your passport and Customs Declaration form, but until recently, there wasn't much you could do about the huddled masses in the Customs lines of any international airport. You may apply for Global Entry through U.S. Customs and Border Protection and expedite your reentry into the United States.
Global Entry Program
The Global Entry program was designed to help frequent international travelers avoid long lines at Customs but any low-risk traveler may apply for it. Once approved, you go to the Global Entry automated kiosk at the airport, scan your passport, declare anything you need to for Customs and provide your fingerprint for identification and verification.
Applying for Global Entry
Fill out the application provided by U.S. Customs, which includes a background screening, pay the nonrefundable fee and wait for your application to be reviewed. An interview will be scheduled at the Global Entry Enrollment Center closest to you. At the interview, your photo will be taken as well as biometric information through a fingerprint.