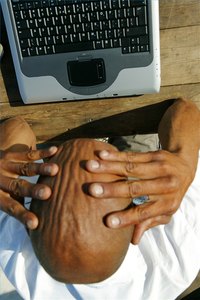 How to Exercise the Scalp. The scalp is comprised of muscles just like any other part of the body. Exercising these muscles increases blood flow to the area, which in turn nourishes hair follicles and keeps the scalp flexible. You even may be able to slow some forms of hair loss and encourage new growth.
Contract the muscles of the front of your scalp by raising your eyebrows. A contraction will be felt in the muscles of the front of the head, and is the easier of the two muscles to learn to control.
Place your fingertips lightly on the back of your head and try to wiggle your ears. The muscles in the back of the head should contract slightly. This is a harder muscle to learn to control, so don't be discouraged if you have trouble with this exercise at first.
Practice contracting these 2 muscles for approximately 10 minutes two times a day anytime you can fit it in to your day. The muscles will likely feel fatigued after each workout, just like any other muscle would feel after being taxed.
Massage the scalp with your fingertips. This can be done while shampooing, or anytime, even on dry hair. The movement of the scalp in this manner can also be very relaxing in addition to exercising the scalp.