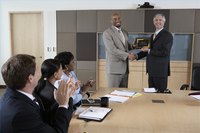 How to Set Up Categories for Employee Awards. It's important to have your employee's loyalty and for them to be happy with your company. If you have unhappy employees, they will be more apt to jump ship. One of the ways you can keep your employees happy, is by offering employee awards. Then, you need to know what categories to setup for these awards.
Give employee awards for length of time or length of service with the company. Select gifts for your employees based on the number of years they've been employeed with the company, which you can either do for each single year served or break it up into groups of five. The longer they've been with the company, the nicer the gift. This lets your employees know how much you value their dedication.
Pick out employee awards when they have gone beyond the call of duty. Recognition rewards is another category for you to honor your employees. These include, but aren't limited to employee of the month, quarter and year awards.
Select employee awards for your top sales people. Sometimes it's better to honor a team rather than one person. Most of the time a sales person is not working alone, they have people setting up their appointments and getting those appointments so the whole team should get a reward. Alternatively, or in addition, you can also make a category for the top sales person each month.
Make an employee awards category for the best suggestion offered. It's difficult to keep a successful business; therefore, having a suggestion box will keep your business fresh. It's always helpful to have more people coming up with these new ideas. To ensure the suggestions are helpful ones offer an employee award for it, "Most Innovative Employee" or "Most Innovative or Creative Suggestion."
Allow your employees to vote on or at least nominate the employee of the month. The more you involve your employees the better they will feel about their part in the company. Making employees happy should be a top goal for any employer.