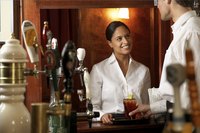 How to Prevent Employee Liquor Theft at a Bar. Bar owners may not realize how vulnerable their liquor cabinet is from their own employees. The busier the establishment, the easier it is for the staff to either drink the owner's profits or pocket the money from drinks sold, and the owner is none the wiser. Even the best bartender may be tempted to skim liquor, but there are steps you can take to prevent shrinkage due to liquor theft.
Inventory your liquor everyday. Although this can be a big job, especially when first setting up your inventory. If your employees know you keep a close tab on the amount of liquor missing compared to sales, they'll be less likely to have a shot or two on the house.
Add a beer flow meter to your kegs to ensure bartenders aren't drinking your profits or pocketing the money. To accurately track waste due to excess foam that employees have to pour off pitchers, set up a system where your waste from the beer well flows into a bucket to monitor the amount thrown away each shift.
Keep a spill sheet to account for any beer or liquor not sold, but missing. Accidents do occur in a busy bar environment and drinks are sometimes mixed wrong; however, if you notice the same employee with a much larger spill sheet than everyone else, you either have a theft issue or they're making too many mistakes which is also not cost-effective.
Require management approval on complimentary drinks. For example, if your establishment regularly gives patrons a free shot on their birthday, have a manager verify that it's truly the customer's birthday and that the drink is actually going to a customer. Don't allow bartenders to write down any complimentary drinks on the spill sheet without having each one verified.
Take steps to prevent overpouring or underpouring drinks. You can handle this by installing "precision-pour" control spouts or another liquor control device that all bartenders must utilize.
Watch for signs of alcoholism in your bartenders and other staff. Some people who tend bar find the temptation of being around alcohol on a constant basis too tempting to pass up and indulge more often than they should. If you notice a staff member drunk more often than not or fear they're drinking on the job, they may be slipping themselves a shot off the books on occasion or dipping into the till to support their drinking habit.