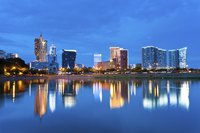 Traveling from Hong Kong's international airport to the former Portuguese territory of Macau, noted for its blend of colonial heritage and modern glitz, involves a 40-mile trip across the Pearl River. The airport's SkyPier ferry terminal serves as the departure point for two high-speed ferry companies, reserved exclusively for passengers arriving at the airport and continuing directly to Macau, where immigration formalities are completed. Passengers who choose to first take a detour through Hong Kong must clear immigration and customs at the airport and take the ferry from the public Hong Kong Macau ferry terminal at Sheung Wan instead.
Transport Basics
Macau has two ferry terminals, the Macau Ferry Terminal and the Taipa Ferry Terminal, on the small island across a bridge where Macau International Airport is located. Both offer immigration facilities. Although Macau, like Hong Kong, is governed by China, it enjoys a certain autonomy as a Special Administrative Region and is able to set its own immigration requirements. Consequently, North American visitors do not need a visa to enter Macau for stays of up to 30 days, but do require a Chinese visa if planning to continue from Macau to mainland China. The same applies for travel from Hong Kong to mainland China. Hong Kong International Airport is served by the SkyPier fast ferry service, which docks at eight ports across the Pearl River Delta. Journey times to Macau are typically 50 minutes.
TurboJet Service
Passengers arriving at Hong Kong airport and continuing to Macau the same day do not need to pass through Immigration and Customs, but should follow signs instead for "Ferries to Macau" and complete formalities upon arrival in Macau. The TurboJet catamaran departs every 15 minutes to Macau Ferry Terminal. Passengers with baggage to check should go to the eCheck-in counter on Level 5, Terminal 1, at least one hour before sailing, while those with no baggage to check need only be at the boarding gate at least 15 minutes before sailing. Passengers can book an e-ticket online and print off a boarding pass. For the most scenic crossing to Macau, the Super Class on the upper deck has better views, as well as priority boarding.
Cotai Ferry
The Cotai Water Jet departs from the same SkyPier terminal as the TurboJet. Passengers book tickets or check luggage at the E2 ticket counter on Level 5, Terminal 1, although many airlines operate a baggage tag through service for passengers connecting to a domestic or international flight in Macau. Passengers simply board the automated people-mover to SkyPier and proceed to the boarding gate. Cotai Jet is the only company that sails to the Taipa terminal, with three sailings a day. Take advantage of upper-level views in Cotai First Class, or take a slot in the eight-seater VIP cabin which also offers complimentary food. Taipa's traditional colonial buildings and pedestrianized restaurant area offer a tranquil antidote to Macau's high-rise concentration of luxury hotels, casinos and malls, which have earned the peninsula its "Las Vegas of the East" nickname.
Air Shuttle
The quickest transit between Hong Kong island and the mainland is the Sky Shuttle, a helicopter service that reaches Macau in just 15 minutes, with departures every 30 minutes. However, the heliport is outside the airport, so Immigration and Customs must be cleared first. Passengers can either book tickets online or purchase them from the automated ticket counter on Level 3/F of the Hong Kong Sky Shuttle Departure Lounge at the Hong Kong Macau Ferry Terminal. To get to the departure lounge, take the Airport Express from the airport, which runs every 10 minutes for a journey time of 23 minutes. Get off at Hong Kong Central station and take a taxi to the Ferry Terminal Public bus No. 11 also runs from the airport to the ferry terminal.