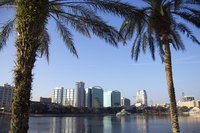 If you're tired of staying in a cramped hotel room when you visit Walt Disney World or you're planning to stay for more than a day or two, you might prefer to stay in one of the studio, one-bedroom, two-bedroom or grand villas that are part of the Disney Vacation Club, or DVC. The one-bedroom, two-bedroom and grand villas offer full kitchens, Jacuzzis and washer and dryers and are conveniently situated in the Walt Disney World Resort. If you make your reservation through Disney, you'll find that rack rates for these villas are high, but you can rent directly from a DVC owner and often pay much less.
Pick a resort and a backup choice. The Beach Club and Boardwalk Resorts are the most popular resorts because of their proximity to both Epcot and Disney's Hollywood Studios. The Villas at Wilderness Lodge are in a wooded area just a boat ride away from the Magic Kingdom. The sprawling Old Key West Resort has a laid-back Florida feel to it and is close to Downtown Disney. Saratoga Springs, designed to emulate the Saratoga area of New York, is just a walk or boat ride away from Downtown Disney. Visitors to the Animal Kingdom Villas enjoy watching giraffes, zebras and other animals from balconies that face the Resort's savanna. Bay Lake Tower at the Contemporary Resort is on the monorail line and within easy walking distance of the Magic Kingdom.
Find a DVC owner willing to rent you points. DVC owners make reservations using a point system. It costs more points to stay during the more popular times of the year. More points are also needed if your stay includes a Friday or Saturday rather than Sunday through Thursday nights only.
Use your Internet to check message boards, including DIS Boards, Mouseowners and DVCRequest. These sites feature posts from DVC owners hoping to rent out some of their points. Points usually rent from $10 to $13 per point. For example, if 12 points are required to rent a villa for one night and you rent points at $11 per point, you would pay $132 per night. Point charts are found on many of these sites to make calculations easy.
Ask for a contract. Don't rent without a contract detailing exactly when deposits and balances are due. Make sure the DVC owner provides his name and telephone number so that you can call him should you have any questions. Find out if there is a cancellation policy. If you are worried that you might need to cancel the reservation with little warning, buy travel insurance to cover any losses you might incur.
Give up control. You will not be able to make the reservation yourself or even speak to DVC Member Services about the reservations. The DVC owner must make the reservation and put it in your name. You should receive a copy of the reservation from the DVC owner.