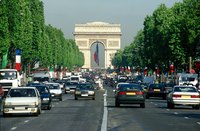 If you live in the United States and plan to travel abroad you must be prepared. If you are going to rent a car or drive a friend's vehicle you will need an International Driving Permit, or IDP. The IDP is valid in more than 150 countries. It contains your name, photo and driver information translated into 10 languages. You can apply for the IDP through the American Automobile Association, or AAA.
Things You'll Need
Valid U.S. driver's license
Fee
Passport-style photos
Completed International Driving Permit application
Decide whether you want to go into the AAA office or send your completed International Driving Permit application by regular mail. If you go to the AAA website and type in your ZIP code, you'll be redirected to the website serving your area. You don't have to be a member of AAA to get the IDP, but you will receive a discount if you are a member. Note that you have to be at least 18 years of age and have a valid U.S. license to apply.
Download the application from the AAA website and fill it out before going to the AAA office. You will need two passport-size photos to submit with the application. You can have them taken at the AAA office or in a number of other places -- some post offices offer this service. There will normally be a fee for the photos wherever you have them taken.
Take your application to the AAA office along with your driver's license, photos and the applicable fees. The process doesn't take long, and you'll leave with your International Driving Permit. As long as you come prepared, you'll get your IDP the same day.
Mail your completed application if you'd rather, along with two passport-style photos, a photocopy of both sides of your driver's license and the fee, including whatever is needed to cover tax and mailing fees. You can find the address for your local office on the AAA website.
Carry your International Driving Permit with your valid U.S. driver's license. It will be valid for one year from date of issue. Even if you don't plan to drive in another country, it's a good idea to get an IDP, as it translates your identification information.