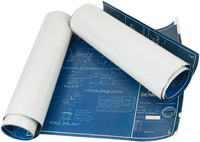 Those who possess the skills and education necessary to work as an architect must first prove their skills by taking and passing the Architect Registration Exam. This exam presents a challenge to many takers, with only between 63 and 74 percent of takers passing the test according to 2010 data. To improve your chances of being on the passing side of this percentage, take care to prepare well in advance for this examination.
Retain notes as you move through architecture school. Each of the classes you take as you prepare for your career in architecture will likely be represented on this exam. Instead of tossing your study materials at the conclusion of each class, keep them and look back at them immediately before this exam to refresh your memory.
Download the free exam guides. NCARB, the organization that oversees this exam, offers free downloadable exam guides for future test takers. These exam guides (see Resources section) cover all of the topics featured in the exam, ranging from schematic design to structural systems.
Study the guides starting with the area in which you have the most difficulty. Because you will likely need to dedicate the most energy to studying the areas in which you are struggling most significantly, start with the area that presents the most difficulty to you and move gradually though the areas that you find easier, covering all before the test day.
Partner with a fellow exam taker. Join with a fellow exam taker if you have a friend or family member who plans to take the test as well and study cooperatively, making preparing for this test easier for you and likely more enjoyable.
Schedule your exam appointment. Once you feel that you are adequately prepared for this test, contact Prometric, the testing service associated with the exam, to schedule your exam appointment at 800-479-6215.