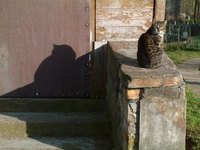 A lot of cat owners keep their beloved pets in the house with them. However, sometimes it is not possible to keep your cat in the house. Now, this is not usually a problem for the cat. But if it is a problem for you, then build them an outdoor cat house.
Things You'll Need
Wood glue
Screws
Screw gun
Lumber
Skill saw
Pencil
Measuring tape
2 small hinges
Using the measuring tape and the pencil, measure and mark off where you want to cut the lumber for the bottom, sides, top, back and front.
Mark with the pencil on the front piece of lumber where you want the opening cut out. It needs to be big enough for your cat to come in and out of but what shape you want the opening to be is up to you.
Plug in the skill saw and cut along the measurements you marked earlier on the lumber. Also cut out the doorway opening on the front piece of lumber.
Place a line of glue on the edge of the bottom piece and set the bottom of the front piece even with the bottom piece and press it lightly but firmly together. Wipe off any excess glue that is squeezed out from pressing the pieces together.
Repeat step 4 with the back and both side pieces. Using the screw gun and screws, attach the hinges to the top piece and the back piece. A hinged top will make it easier for you to clean out the cat house.