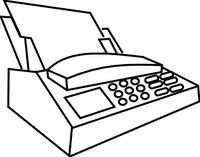 Nepal is a remote and isolated country. Despite economic globalization, Nepal is still considered a secluded country from the rest of the world's major air, land, and sea transportation routes. In any developing country, telephone service is better in cities where business dominates. If you'd like to send a fax to Nepal, chances are that you'll be sending your fax to one of the seven major cities.
Find a fax machine that has the ability to send an international fax. You can find this out by checking your fax machine's plan. Once you make sure that your fax machine can send international faxes, prepare your papers to be faxed.
Dial "9" only if it is necessary. Many businesses and institutions may require you to dial "9" in order to get an external dial tone.
Dial "011". This is the international access code for the United States. Each and every country has a different international access code, which is specifically used to dial outside of the country.
Dial "977". This is the country calling code for Nepal. Each country has a different country calling code.
Dial the city code. There are seven major cities that you could possibly send your fax to. For example, the capital of Nepal, Kathmandu, has the city code of "1" and shares the same city code with major cities Bhaktapur and Patan. You may want to send a business fax to the commercial capital of Nepal, known as Birgunj, which has a city code of "51." Lumbini's city code is "71." Nepalgunj has a city code of "81." Pokhara's city code is "61."
Dial the local fax number.
Press "Send". Wait for the typical sounds of the fax machine to be completed. The fax machine will inform you on whether or not the fax was a success. Some fax machines are even programmed to print out a status report that acts as a confirmation.