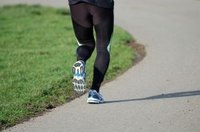 Chafing happens when your skin rubs together while walking, exercising or wearing certain kinds of clothing. Chafing irritates the skin and can cause pain. If you are a little bit overweight and your thighs rub together when you walk or exercise, painful and irritating chafing may occur. There are ways to prevent chafing and natural ways to treat chafing when it does happen.
Things You'll Need
100 percent cotton clothing
Elastic bandages
Adhesive bandages
Tight exercise clothes or loose regular clothes
Petroleum jelly
Talcum powder
A and D ointment
Vaseline
Calendula oil
Zinc oxide
Wear 100 percent cotton clothing during sports activities and exercise. Switch to 100 percent cotton when walking, exercising, or playing sports to prevent chafing.
Wrap an elastic bandage around your legs and thighs before you exercise or play sports. If you are overweight, the elastic bandages will help prevent chafing during the activity.
Wrap old sores or sensitive areas in an adhesive bandage to protect skin from further chafing.
Use petroleum jelly to lubricate your skin. Use the jelly between your thighs, around your toes, and under your arms.
Use talcum powder. Talcum powder works just like a lubricant. Use a hankerchief as a powder puff to ensure the powder goes directly onto the skin and not on the floor.
Make a homemade lubricant. Mix vitamin A and D ointment with Vaseline. Also, add ¼ cup each of Vitamin E cream and Aloe Vera cream. The Vitamin E and Aloe Vera cream will provide consistency and ease the pain and blisters from chafing. It will also prevent future chafing of the skin.