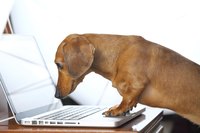 You can buy almost anything online, including a new canine companion. Unfortunately, purchasing a dog online isn't as simple as ordering a new pair of pants, requiring some research into the breeder you'll be dealing with and a visit to their facility. While those who sell pets online must follow the same laws as wholesale breeders and are regulated by the U.S. Department of Agriculture, that doesn't mean that all of them do. Shady breeders might try to skirt these regulations and sell you a sick pup or scam you out of money.
Visit the American Kennel Club Breeder Referral Search website to find the websites for breeders specific to the type of dog you are shopping for. These breeders will be affiliated with the AKC, meaning that they must follow the breed standards for the dogs they sell. They also are subject to regular, unannounced health inspections by the AKC Investigations and Inspections Department.
Visit the website of the breeder you choose. The website should list his general location, his affiliations with breed-specific dog clubs and give a way to contact him.
Contact the breeder by phone or email to find out about the dogs who are available for purchase. Request an appointment to visit the dogs in person.
Visit the breeder and interact with the dog you will be purchasing to ensure that the facility is not a puppy mill and that the dog is healthy. While a breeder licensed by the USDA can send a dog to you via an airplane flight, with a certificate of veterinary inspection, it's best to see the dog in person to prevent fraud.
Get references from the breeder for his past online clients. Contact these people and ask them about their dogs' health and temperament, as well as their experience with the breeder.
Tell the breeder you want to purchase a dog. The breeder should provide you with a signed contract through mail, email, fax or in person. The contract should state that he will take the dog back from you if you can no longer care for the dog. The breeder should give you the dog's vet records, proof of vaccinations and proof that the dog's litter was registered with the AKC. Reputable breeders include a clause requiring you to spay or neuter your dog prior to receiving her AKC papers unless you've negotiated the full breeding rights for the dog.
Pay for your dog via a check or a traceable electronic payment service such as PayPal, only at the time of pickup. You want to have a record and receipt of the payment, done in a way that gives you protection should something go wrong and you need a refund for your dog after returning her to the breeder.