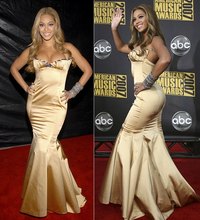 So you want to look like J.Lo, Beyonce or Scarlett Johansson? Thanks to these curvy stars, hips are back in style and look better than ever. To fit into your own pair of vavavoom jeans or a tight little cocktail dress, follow these steps, and have everyone around you saying, "I wish I looked like her!"
Try horseback riding. When you ride a horse, your thigh and hip muscles are constantly being used to grip the saddle and maintain balance. Over time, these muscles will bulk due to the excercise and add a few inches onto you hips.
Practice leg lifts. Lie on your side with your head resting on one hand and your legs out straight (your body will be in a long straight line across the floor). Slowly, raise the leg that is on top of the other to about a 90 degree angle from your torso and hold. Bring the leg back down to the resting position slowly. Repeat 15 times on each leg every other day.
Add some sweeter, fatter or saltier foods to your diet. One of the places your body will naturally add the extra fat to is your hips. Be careful not to overdo this or you will end up with extra padding on your stomach and thighs as well. Also be sure to maintain a low level of cardio excercise to keep this method in check--25 to 40 minutes 3 times a week should help.
Dress in a way that gives the illusion of bigger hips. Certain brands of jeans, such as the VS Lift from Victoria's Secret, claim to give the wearer a more hour-glass figure by cinching the waist while lifting and shaping the hips and behind. Structured dresses will also help add to your shape by flairing out where there should be hips.
Consider plastic surgery. Implants, especially in the hip and behind area, are not popular surgeries. While this is the most extreme of the options, it may be right for you. Be careful to consider your motivations for the surgery. While it has been glamorized on TV and in Hollywood, surgery is still surgery, and it is a serious and very stressful experience for your body. Do it only after careful consideration.
No matter what your shape, what you have or don't have, make a real effort to make peace with the parts that you naturally have and work to flatter them. Self respect and a good body image are worth so much more than looking like Beyonce or Shakira. If you feel that you have thoughts about your body shape that are abnormal or you can't control, consider talking to your local mental health professional for advice and support.