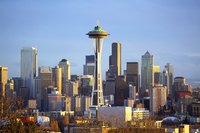 Don't be fooled into thinking all you need to pack for a trip to Seattle is an umbrella. Despite public perception, the Pacific Northwest city actually receives less annual precipitation than Boston, New York and Atlanta. In fact, a variety of weather patterns can sweep through the city all in one day. Although Seattle has a laid-back vibe, grunge fashion is out as well. Bring outfits that will accommodate the city's diverse attractions, including everything from recreational activities to high-brow cultural events.
Seasonal Dress
Come prepared for Seattle's famed rain, particularly between October and May, the region's wettest season. While the city typically experiences just steady drizzles, make certain you have a small umbrella, preferably one that will fit inside a purse or jacket, and rain boots for added comfort. A raincoat with a built-in hood helps as well.
Dress for brisk temperatures in the fall, with daytime temperatures in the high 50s and evening temps dipping into the low 40s. The sun still peaks out occasionally and temperatures can fluctuate dramatically during this time of year so pack plenty of layers. Consider casual wear such as jeans and a T-shirt or a dress with tights partnered with a sweatshirt or cardigan.
Although it's rare, it does snow occasionally in Seattle during the winter. The city's coldest period is between November and February, with highs in the high 40s and lows in the high 30s. For extra warmth, bring a pair of gloves, a scarf, knit hat and wool socks. Thermals and padded ski vests provide added protection against the chilly winds blowing off Puget Sound.
With highs typically in the low 60s, springtime in Seattle means you can do away with heavy clothing. A pair of khakis, a button-down blouse or shirt and a light jacket are often enough to keep you warm. Add a thin scarf to your outfit during the cool mornings or early afternoons.
During the summer, Seattle often enjoys sunny skies and daytime temperatures in the mid-70s. Protect against UV rays with a large brim sun hat or baseball cap, lip balm, sunscreen and sunglasses. Stay cool in a cotton sundress or shorts and a short-sleeve shirt with sandals.
Exploring the Region
Bring comfortable shoes as downtown Seattle, home to numerous museums, malls and theaters, is a very walkable city. Closed-toe shoes, such as boots, will help keep your feet dry. Whether walking up the steep hills of Seattle's Queen Anne or Capitol Hill districts, or across the uneven brick streets of Pioneer Square, it's wise to leave your high-heeled shoes at home.
Whether enjoying a jog through Gas Works Park or an afternoon of hiking in nearby Mount Rainier National Park, make sure you pack workout clothes. Include such articles of clothing as sports bras, track pants, compression shirts, tank tops, hiking boots or running shoes.
Patronize such high-end institutions as Benaroya Hall, home to the Seattle Symphony Orchestra, or one of the city's many gourmet restaurants. Wear wrinkle-free items, such as jersey dresses with a pair of small heels and costume jewelry for a chic but understated look. Men can don dress slacks, oxford shoes and long sleeve, button-down shirts for a night on the town.
Make your way to some of the small beaches on Washington or Union lakes, particularly during the summer. Bring a bathing suit, trunks and beach towels for an afternoon of sunbathing and swimming. Magazines, books, crossword puzzles and e-readers provide entertainment during your leisurely day at the beach.