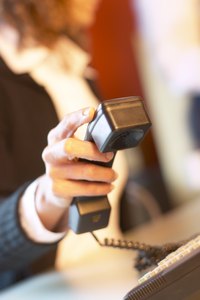 Your home-based business customers will find it more convenient to reach you when you provide them with a toll-free phone number. You can even obtain a toll-free incoming number for personal use, so family members in another town or state can reach you without paying long-distance charges. Authorized providers of toll-free incoming service offer numbers with 800, 877, 888, 866 and 855 prefixes. When someone dials your toll-free number, he will be connected to your regular phone line.
Visit the SMS/800 system's website and click the "Service Provider Search" link on the home page. A page with a search box and a list of authorized toll-free number providers will appear. Enter the name of a phone company you are familiar with to see if it provides toll-free numbers or search the list for five or six providers so you can compare prices and service.
Call or visit the sites of the service providers you are considering to find the right price and service package for your budget and needs.
Follow the instructions given to you on your service provider's website or by your provider's sales representative over the phone regarding payment. Enter your credit card number, billing address and present phone number on your chosen provider's site, or provide it to your sales representative.
Wait for online or verbal confirmation of payment along with your new toll-free number. Test it as soon as it is confirmed by calling it with your mobile phone or another home or business phone number. You may not be able to test it with the number to which it connects.