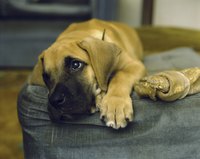 When left home alone, dogs sometimes behave in inappropriate ways. They might dump the trash, chew on your shoes or simply hide until you return. You can often deter destructive behavior by helping your dog work off some of his pent-up energy before you leave and providing him with toys or other distractions to keep him occupied while you're gone.
Set the Mood
Give your dog cues that you're about to leave. As with any type of training, this mentally prepares him and triggers the type of behavior you want to encourage. For example, take him outside to potty. Also, know what keeps your dog happy and busy. This could be food, toys or a cozy place to sleep. Play fetch with him for 10 to 15 minutes before you go. Over time, he'll associate this with you leaving the house, which will comfort him and help him feel less confused or anxious when you leave.
Get Your Dog Moving
Dogs often act out simply because they have too much energy and no constructive way to release it. The more activity and play you provide for your dog, the more likely he is to remain calm while you're gone simply because he's ready to rest. Take him for a long walk just before you leave. For many dogs a 20-minute walk is enough to expend their energy. More active dogs, including working breeds such as boxers, might need a longer walk to prevent boredom and keep them calm when home alone. When determining how long to walk your dog, consider the pace of the walk, the difficulty of the terrain and your dog's overall health. An older dog, for example, might get tired after 10 minutes while a younger dog might easily walk for half an hour or more without tiring.
Ease Loneliness
Some dogs engage in destructive or fearful behaviors because of separation anxiety. Even if you can't be with your dog, you can make him feel less alone by leaving the radio or television on. This will mimic the background noise he hears when you're there, and drown out outside noises that might frighten him and cause him to bark. Change the station occasionally to give him some variety. If you have only one dog, adopting a canine companion might soothe his loneliness and keep him occupied.
Give Him a Challenge
Give your dog puzzle toys that hold treats and food and require him to figure out how to release them. You can buy your dog a Kong, a toy that has an opening in the center for food. Fill it with peanut butter or another treat to keep your dog happy and busy. You can freeze it overnight so the food thaws throughout the day and gives your dog something to do the entire time you're gone. Before leaving your dog unattended with any toy, watch him first to ensure it's safe and that he knows how to use it.