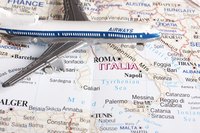 Fiumicino Airport is about 16 miles southwest of Rome's center, which is where you'll find the Colosseum, the Forum, the Spanish Steps, the Trevi Fountain and all the other ancient sites visitors expect to see. Rome's metro line, which locally is called the metropolitana, does not go all the way out to the airport, but you can get to it easily by train or bus from Fiumicino. Take the Leonardo Express train, the local FR1 train or the bus to a metro stop that will take you to the center of Rome.
Things You'll Need
Leonardo Express to Metro
Exit the baggage claim area and follow signs for the train station, located at Fiumicino Airport.
Purchase a train ticket at the ticket counter or the self-service machines located near the tracks. You can also buy tickets at the newsstand.
Validate your ticket by inserting one end into the yellow validation boxes you'll see before you reach the train platform.
Take the train to Rome's Termini station. The 30-minute ride is a direct route between the airport and Termini. From Termini, you can get on any metro line and reach your destination in Rome.
FR1 Train to Metro
Arrive at the airport's train station and buy a ticket for the FR1 train at the ticket window, self-serve machine or newsstand. Validate your ticket by punching it in the yellow validation box.
Wait for the train on the left side of the track so you don't board the Leonardo Express train by mistake.
Consult your metro map so you'll know which stop to choose. The Ostiense and Tiburtina stations get you onto Metro Line B, which you can take to Termini or other stops in central Rome.
Cotral Bus to Metro
Board the Cotral bus from outside Terminal 2 or Terminal 3. You can buy a ticket at any newsstand in the airport, and a combination bus-metro-tram ticket will work for this route as well.
Exit the bus at the Ostia Lido stop if you want to catch the Metro Line B, and take the Roma-Lido line to Ostiense station, where you can catch the metro to any part of central Rome.
Exit at the Anagnina metro station if you want to take Metro Line A to central points in Rome.