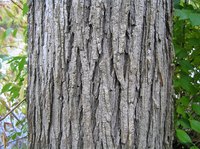 Canine digestive problems tend to manifest themselves in one of two ways: either your dog will go all the time (canine diarrhea) or he does not go at all. Both are extremely uncomfortable situations for your pet and potentially big problems for you. In many cases, if your dog just has a super-sensitive stomach then you can adjust his diet accordingly. However, in other cases you may need to try some additional treatment. If you have had no success with medicinal treatments or hesitate to medicate your finicky puppy permanently, then you may wish to ask your veterinarian about the benefits of slippery elm.
Things You'll Need
Slippery elm bark extract
Check out the options with your veterinarian. Before you begin treating your dog for a simple upset stomach or chronically sensitive stomach, make sure that is the only problem. Many times larger issues may manifest themselves in the form of upset stomachs, irritable pets or unreliable housetraining habits. You need to be sure that a sensitive stomach is the only thing that is wrong with your pet.
Determine the right dosage. Depending on size, your dog may need a little slippery elm or a lot. Human weight recommendations do not necessarily translate to dogs, so ask your vet before you start giving your dog any herbal treatment.
Brew your dog some slippery elm "tea." You can make your dog a soothing cup of tea by steeping a vet-recommended amount of dried slippery elm bark in warm chicken broth. Then, pour it over your pup's food or, if she is on the liquid diet until her stomach trouble eases, let her drink it straight.

Give your dog a slippery elm treat. Slippery elm can be purchased at many pet supply stores in the form of a dried bark "treat." If you are using slippery elm as a preventative measure, then it may be sufficient to simply give your dog one of these treats each day.
Monitor your dog's progress. Keep track of how well your dog is doing. While slippery elm may take several days to start to help the lining of the digestive track, you should see improvement relatively quickly. If you do not see any changes, then contact your vet for further help.