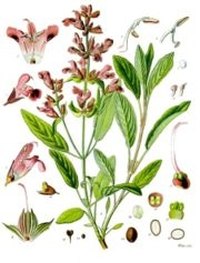 Here is an all-natural solution to a sore throat that works just as well for children as for adults. This article presents a method of making a healing sage infusion that works particularly well for easing the discomfort of a sore throat. Sage is naturally anti-inflammatory, honey is one of nature's antiseptics, and lemon juice contains large amounts of Vitamin C (to boost immunity), as well as being antibacterial, antiseptic and decongesting.
Things You'll Need
½ cup fresh sage leaves, torn into smaller pieces
2 tbsp. honey (only for people more than 2 years old)
½ cup fresh peppermint leaves, torn into smaller pieces
Juice of 1 fresh lemon
4 cups boiling water
Strainer
Heat-proof bowl or container
Place the torn sage leaves and peppermint leaves in the bowl. Add the lemon juice and the honey.
Pour the boiling water over the contents of the bowl and stir to dissolve the honey. Cover the bowl for 30 minutes.
Uncover the bowl and strain the liquid. Discard the leaves.
Sip the liquid like a tea to relieve the pain of a sore throat. Drink at least one cup every three to four hours, although relief should begin immediately.