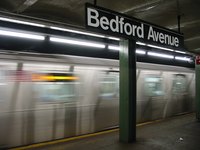 Any hipster worth his weight in beard-grooming tools or obscure vinyl knows that Williamsburg in Brooklyn, New York, is the nerve center of hip. If Williamsburg is the heart of style, then Bedford Avenue is its main artery. Hundreds of stylish shops, street vendors, boutiques and eateries line the long stretch of sidewalk between North 12th and South 4th streets. Take a detour down almost any of Williamsburg's other streets stretching as far west as the East River or east toward Union Avenue, and you'll find even more that can fill your home, closet or stomach.
Things You'll Need
Cash and debit or credit card
Getting to Williamsburg
Take the L train from Manhattan to the Bedford Avenue stop. Take the G train to Metropolitan Avenue if you are starting in Queens, Greenpoint or South Brooklyn. Take the J, M or Z train to Marcy Avenue if you are coming from lower Manhattan or East Brooklyn.
Use the Bedford Avenue and 7th Street exit if you arrive on the L train and turn either left or right onto Bedford Avenue to start shopping. Exit the G train at Metropolitan, travel west toward the East River -- preferably along Metropolitan where you will run into shops and eateries along the way selling everything from vintage dresses and used records to gluten-free cookies. Walk west along Marcy Avenue until you reach Bedford Avenue if you have arrived at the Marcy Avenue stop using the J, M or Z train.
Veer from the main streets to find some off-Bedford gems. Many of Williamsburg's famous secondhand shops, such as Buffalo Exchange and Crossroad's Trading Company, are actually off Bedford Avenue. Buffalo Exchange is on Driggs Avenue between North 9th and North 10th Streets. Crossroad's Trading Company is located on North 7th Street between Berry and Bedford Avenue.
Guide to Vintage Shopping
Weave up and down the streets from North 10th to North 4th between Driggs Avenue and the East River if you are craving vintage duds. Here, in northern Williamsburg, you will find the highest concentration of fashionable frocks from the past.
Ask to put items on hold if you aren't ready to make a purchase. However, know that it is likely to belong to someone else if you don't commit to buying it. Most of the items in Williamsburg's vintage or secondhand stores are frequently picked over and disappear quickly.
Don't pass up the many vintage furniture stores as they often have relics from your childhood, knickknacks or funky furniture in dusty, but good condition. And don't be afraid to bargain; many prices for household items are not necessarily set in stone.
Guide to Getting it Local
Get hyper-local finds directly from dozens of local Williamsburg vendors. You can shop directly from a local vendor just by walking down the street. Lined mostly on Bedford Avenue, street vendors sell everything from sunglasses and handmade jewelry to $1 vinyl records or old paperbacks. These vendors are usually cash only and the best place to haggle.
Head down to the East River toward the Artists and Fleas between Wythe and Kent Street near North 7th. Each weekend 30 local arts and craft vendors set up shop with their handmade wares for you to pick through, ogle at and hopefully purchase. The vendors change each week, so come back frequently.
Head further west toward the East River waterfront where on Sundays, the famous Brooklyn Flea boasts over 250 local vendors. Sample bites from local restaurants and food trucks while you comb through a seemingly endless array of unique items from stationery to typewriter key rings to T-shirts to shabby chic furniture and more.