A plant-based diet tends to be lower in calories than an omnivorous diet, and vegetarians often weigh less than their meat-eating counterparts. But that doesn't mean weight gain can't happen on a vegetarian diet. Eating too many calories, whether they come from plant foods or animal foods, can lead to weight gain, especially if you're sedentary. Even on a vegetarian diet, it's important to get your calories from healthy foods, monitor your daily intake and exercise regularly to maintain your waistline and your health.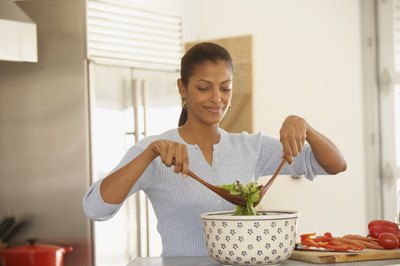 Weight Gain Basics
Managing your weight is mainly about balancing your calorie intake with your calorie output. Barring any health problems, if you're gaining weight, it's because you're taking in too many calories and not expending enough. Although vegetarian foods -- such as fruits, veggies and whole grains -- tend to be lower in calories than meat, there are still plenty of foods that will pack on the pounds if you eat too much of them. For example, avocado is high in fat and calories; if you are a lacto-ovo vegetarian who eats eggs and dairy, too much cheese will do the trick. A study published in Nutrition in July 2014 compared an omnivorous diet to four types of vegetarian diets and found that only the vegan diet -- containing no animal products at all -- resulted in significant weight loss.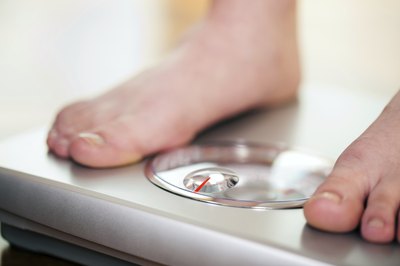 Avoid Processed Foods
Depending on what type of vegetarian diet you follow, you may have access to a variety of processed foods, from ice cream and cookies to mock meat and veggie burgers. Of course, the ice cream and cookies, with their added sugar content, are obvious culprits, but processed vegan foods can be high in fat. They can also be very high in sodium, which can lead to water weight gain and bloating. Stick to a diet of whole foods, including fresh fruits and vegetables, whole grains, nuts and seeds, legumes, and low-fat dairy and eggs, if you eat them. Keep the occasional indulgence in sweets and other processed foods to a minimum.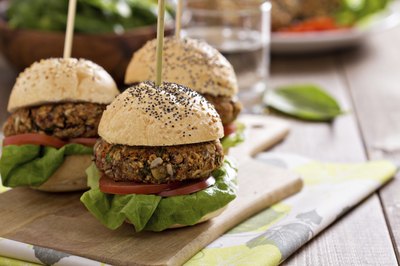 Control Your Fat Intake
Fat has 9 calories per gram, compared to protein and carbs, which have 4 calories per gram. Avocados, nuts and olive oil are plant-based foods that contain heart-healthy mono- and polyunsaturated fats, but if you're eating too many of them, you'll gain weight. Keep track of how much you're eating and observe proper portion sizes; one serving is one-fifth of a medium avocado, 1 tablespoon of olive oil and 1 ounce of nuts.
Eat Enough Protein
Protein is the most satiating of the three macronutrients, and not getting enough could leave you feeling hungry, especially if you're eating too many carbs. Dietitian Cynthia Sass reports on the Shape website that vegetarians often need more protein than meat eaters because vegetarian protein isn't digested or absorbed as readily. Sass suggests getting about 15 to 20 percent of your calories, or about 60 to 80 grams, of plant protein each day. Good sources include beans and lentils, tofu, quinoa and nuts and seeds.
A Sample Meal Plan
If you eat eggs, an omelet made with one whole egg and two egg whites, stuffed with spinach and tomatoes, is a perfect start to the day. Vegans can have a steaming bowl of oats topped with almonds, coconut flakes, chia seeds and unsweetened dried fruit. Have a half a grapefruit on the side.
For lunch, spread homemade hummus -- an easy-to-make mixture of garbanzo beans, lemon juice, garlic, sesame paste and olive oil -- on whole-grain bread. Top it with leafy greens, sliced tomatoes, sprouts and slices of avocado. Have a small apple as your fruit. Lacto-ovo vegetarians can have a container of plain low-fat Greek yogurt topped with berries.
For dinner, slice firm tofu and coat it with a mixture of chia seeds, a little salt and herbs and spices, and saute it in a little olive oil until lightly browned. Pair it with a bowl of steamed leafy greens and a small baked sweet potato. Fresh berries are a sweet and nutritious treat.
If you need to snack during the day, grab a few almonds, celery stalks spread with almond butter or some leftover lentil soup.