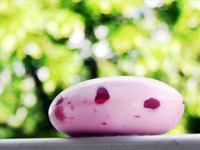 High-end bath and beauty stores have most recently gotten away with charging a lathered arm-and-a-leg for soap. What these companies don't want you to know is that you can easily make your own soap right at home for little to no cost. Not only does it cost less than buying expensive soap at a high-end store, it's more fun! All of the items you need in order to make your own exfoliating soap can be bought at your local craft store. Soap is easy enough to make with kids and it makes a great gift!
Things You'll Need
Sand or Kosher Salt
Melt-and-Pour Glycerin Soap
Bowl
Spoon
Microwave
Bar Soap Mold
Soap Dye Drops ( optional )
Scented Essential Oil
Knife
Rubbing Alcohol
Spray Bottle
Use a knife to cut small, cube-like pieces of glycerin melt-and-pour soap base. Put about 20 pieces in a microwave-safe bowl and microwave on "high" for 30 seconds.
Stir with a spoon and microwave for 30 more seconds if soap has not completely melted. Pull out again and stir. Continue until the soap has completely melted into a liquid.
Pour 3-5 drops of scented essential oil into the melted soap. If you'd like, you can add 3-5 drops of soap dye to the melted soap as well. Stir thoroughly. Continue adding drops until you've reached the color and scent you prefer. Add several teaspoons of sand or salt to the mixture. Stir thoroughly.
Fill an empty hairspray bottle with rubbing alcohol. Spray the inside of a soap bar mold with a light coating of rubbing alcohol to eliminate sticking. Pour the soap and sand/salt mixture into the mold. Once you've poured the soap into the mold, spray the top of the melted soap with rubbing alcohol to eliminate bubbles.
Let dry for several hours. Soap is ready when it is cool to the touch. Pop the soap out of the mold. Best results if you allow the soap to sit for several days before using.