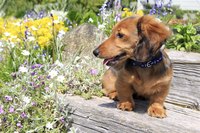 Your young pooch should be running, playing and spending time exploring every aspect of his environment -- including bonding with you. Sudden nipping, ignoring your calls and unwarranted barking are just some of the signs that he could have hearing loss. It can be difficult to determine normal stubborn puppy behavior versus signs of deafness, though, so you'll want to go over your fur pal's quirks with your veterinarian.
Startles Easily
Imagine being focused on work and being completely unaware that someone is approaching behind you. You'll likely jump as soon as they tap you on the shoulder. This is what your pooch experiences around the clock when he can't hear anything. If you approach a deaf dog who's not looking your way, he won't know you're coming; When you reach down to pet him he'll be startled and may even turn around and nip at you since you unintentionally spooked him.
Seems Oblivious to Noise
No matter how loud you yell his name or how much noise you make when you clap your hands, if your puppy doesn't acknowledge you, he could be hard of hearing. Your fuzzy companion may look the wrong way or even run in the opposite direction. He might also show no response to the doorbell ringing, food being poured or dogs barking in your neighbor's yard. These cues let you know it's time to have your pint-size buddy's hearing checked.
Barks Nonstop
It's perfectly normal for dogs to bark. They do it to let you know they're hungry, to drive away other animals or alert you to their presence, or simply because they're excited, to name a few reasons. When your little friend just sits and barks nonstop, however, it can signify that his hearing isn't up to par. He could bark excessively because he's scared, because he's unaware of his surroundings, or because he wants to make his presence known.
Other Details
Sometimes inadequate hearing stems from an infection or extreme wax buildup, and it may only be temporary if you undertake a treatment plan with your veterinarian. Your puppy might shake his head or paw at his ears in these cases. Some breeds are more susceptible to deafness. So if your new addition is one of those breeds -- Dalmatians, Australian shepherds, Shetland sheepdogs, Great Danes, bull terriers, English bulldogs and English setters, for example -- his lack of hearing could be genetic, the ASPCA reports. Ask your veterinarian if your puppy's heritage could be linked to abnormal hearing. It might be worthwhile to have the pet undergo a hearing test early on.