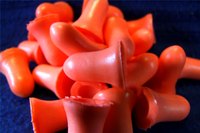 Are you tired of tossing and turning at night? Wouldn't you love to get a full night of rest? The unfortunate thing is that many people are forced to sleep in noisy environments. Whether it's a barking dog or a snoring partner, it's impossible to sleep with all the noise. Thankfully, there's a solution. Earplugs not only help block indoor noises, but they can also block most outdoor noises as well. Best of all, you can find earplugs that offer extreme comfort, but you must know how to insert them correctly.
Roll the earplug into a tight cylinder. In order for earplugs to fit into your ear canal, you must roll the foam so that it forms a tight cylinder. This makes it easy to slide earplugs into your ear so that you get a proper fit.
Lift the top of your ear to open the canal. It's impossible to insert earplugs correctly without pulling on the top of your ear. Otherwise, the canal is too closed off to reach. You will need to grab the top part of your ear and lift slowly. If opened properly, you will feel air coming into the canal.
Insert earplug into the open canal. If you opened the ear canal properly, you should be able to slide the earplug in easily. If the canal isn't open enough, you will find yourself trying to squish the earplug into place.
Hold earplug in place until the form expands. The foam will take a bit of time to expand. If you simply insert the earplug and then pull your hand away, the earplug will pop out. Instead, you need to gently hold the plug in place until the foam fully expands. This ensures that the earplug blocks out as much noise as possible.
Repeat Steps 1 – 4. It's important to insert one earplug at a time. Otherwise, the foam will expand before you can begin work on the second ear.
Use wax earplugs for swimming. Foam earplugs are best suited for sleeping, but if you need earplugs that are waterproof, wax is your best bet. To insert wax earplugs, roll the wax into a fat cylinder. Press the wax into your ear canal so that a flat disc forms on the outside of the canal. This will help keep water from entering the ear canal.