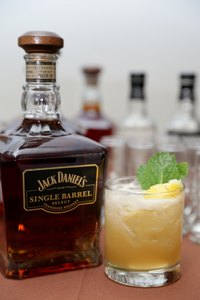 Visitors to the Jack Daniel's Distillery in Lynchburg, Tennessee, can relish the anomaly of sampling premium bourbon in a county that has remained dry since Prohibition. A more enduring thrill, however, is to tour the oldest distillery in the U.S., where every drop of the famous charcoal-mellowed whiskey is produced.
Things You'll Need
Free Tours
Head to Lynchburg, just 75 miles southeast of Nashville. The distillery is off the Lynchburg Highway.
Begin at the Visitor Center, where you can sign up for a tour and browse artifacts, bottles and historical pictures.
Take a free guided distillery tour, lasting an hour and 10 minutes and running regularly from 9 a.m. to 4.30 p.m. Tours visit the barrel warehouses, stills, spring and bottling plant.
See the iron safe that Jack kicked, causing his toe to turn gangrenous and leading to his untimely death. Visitors are welcome to give it a commemorative tap with their feet.
Sample Whiskey
Upgrade to a sampling tour for a nominal fee. These tours are available six times a day, Monday to Sunday, to those over 21 and last roughly an hour and 45 minutes.
Visit the grinding room where charred sugar maple is crushed and pulverized to provide the 10-foot filter through which the whiskey is passed before it is aged in charred oak barrels. This slow filtration process gives the Tennessee whiskey its unique character.
Study the wall in the grinding room where a host of celebrities have signed their names in charcoal.
Round off the tour with a much-awaited tasting. Visitors are served small plastic cups that each have just a dash of house blends, from Jack Daniels Tennessee Whiskey to Gentleman Jack, to the mellow, single-barrel whiskey.
Visit the White Rabbit Bottle Shop to buy commemorative bottles of house blends. Since this is a dry county, the customer buys the glass bottle and the whiskey is free.
Soak up some of those fine bourbon samples with a hearty Southern lunch at the historic Miss Mary Bobo's Boarding House Restaurant, where Uncle Jack himself dined more than 100 years ago.