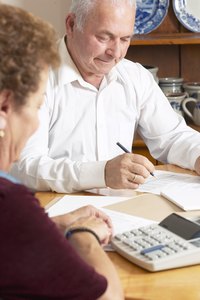 Some people work hard their entire lives, saving money for the day when they can enjoy the freedom that comes along with retirement. Although the savings factor is one of the most significant aspects of planning for retirement, you also need to consider additional factors – especially if your retirement savings doesn't run particularly deep. You need to look at your overall financial picture, as well as the options available to you.
Savings and Investments
The primary concern for most people when preparing for retirement is to ensure they'll have enough money available once routine paychecks no longer exist. The U.S. Department of Labor suggests that you will need a monthly retirement income that is 70 to 90 percent of your pre-retirement income. The financial planning element of retirement is critical to allow for a comfortable and manageable retirement lifestyle. The planning should begin while you're still working. You have several options when it comes to saving for your retirement including IRAs and 401(k)s, but how much you contribute to these plans is really dependent on your age and income. You should opt into an employer-sponsored 401(k) plan, especially if your employer offers a matching contribution program. If you're self-employed, you can consider a solo 401(k) or SEP plan. Traditional and Roth IRAs are also good options. The main difference between the two investment offerings is that a traditional IRA is tax deferred, while a Roth IRA offers tax-exempt savings, but the contributions aren't tax deductible. Understanding the contribution, withdrawal and limitation rules are essential in making your decision in terms of what options are best for you.
Housing
You'll also need to deal with housing costs during your retirement. If you own your home free and clear, you still need to determine if the cost of taxes, maintenance and upkeep are affordable once you're retired. You might want to consider selling your home and downsizing to something smaller. You might also consider a reverse mortgage if you have substantial equity in your home. A reverse mortgage allows you to remain in your home and receive a monthly payment that is actually a loan against your equity.
Healthcare
Healthcare is a major expense and one that you should consider when planning for your retirement. You should determine if you can retain your current health insurance once you retire, or whether you will need to purchase individual coverage. While you can obtain Medicare coverage at age 65, Medicare won't cover all your medical costs. If you can't retain your current policy, you'll need to research additional health insurance plans for the medical costs that Medicare doesn't cover. This is typically referred to as Medigap insurance as it covers the gap between what Medicare pays and what it doesn't. In addition, securing a long-term care insurance policy is also financially prudent as this type of policy will help cover or offset the cost associated with retirement and long-term care facilities -- and even in-home medical care in the event of a debilitating or lengthy illness.
Working During Retirement
The income you receive during retirement is based on how much you saved and invested while you were actively employed. Though macroeconomic factors impact the amount you will receive to some extent, you may find that you wish to secure a part-time job to generate additional income and keep yourself busy. This may impact what you receive if some or all of your retirement income is funded through Social Security. Social Security income is determined through a complex calculation that considers how much you contributed into the Social Security system throughout your years of working. If you determine that a part time job will benefit you financially in your retirement, you need to decide how to best transfer your skill set to part time employment -- and start devising a retirement work plan.