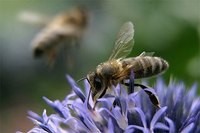 A bee sting can happen any time and any place. It's a good idea to have options for treating the pain and swelling associated with a sting. The following treatment methods are easy, inexpensive and use items readily available in your home.
If you get stung and the stinger is still embedded in your skin, CAREFULLY remove the stinger. Try not to pinch or squeese the stinger out so you can prevent additional venom from being released.
After you have removed the stinger, try the following based on what you have available to you at that time.
BAKING SODA with water - make a paste - apply liberally to site of sting.
TOOTHPASTE - basic mint (not gel) - apply liberally to site of sting.
Tomato slice - Place slice on bee sting.

LEMON or LEMON JUICE - squeeze juice on sting site (best for wasps and also works well for mosquitoes).
VINEGAR - squeeze on sting site (also good for wasps).
ANTI-PERSPIRANT - spread over sting site - the aluminum chlorohydrate reduces the effect of venom.
MUD - good if you are camping or have no other options.
Tried and true - ALOE - You can also use aloe LIP BALM.