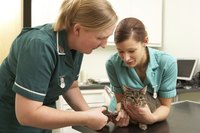 Soft Paws, also known as Soft Claws, are vinyl caps that you glue over your kitty's nails. These blunt caps prevent her from scratching you with her sharp claws or damaging items in your home, while still allowing her the normal use of her feet and nails. These caps won't hurt your feline friend and are a more humane alternative to declawing.
How Do I Apply the Caps?
You apply Soft Paws nail caps directly over your feline friend's nails. Before applying the caps, clip the sharp tip from each of your kitty's nails. This prevents the nails from piercing through the vinyl tips of the nail caps, rendering them useless. Fill each cap one-third of the length of the cap with the glue it comes with. This adhesive is made with cyanoacrylate, which is a type of surgical glue used with pets, so it's safe for your kitty once it's dry. Grasp one of your kitty's toes with your thumb and forefinger to extend the nail, place the nail gently into the cap and let it dry for 5 minutes. Repeat the procedure for each of your kitty's nails.
What's in the Nail Cap Kit?
Soft Paw nail cap kits come with enough nail caps to cover 40 nails, which is eight treatments for only the front paws or four treatments to cover both front and back nails. You'll also find two tubes of the cat-safe adhesive and instructions in the kit, along with six applicator tips for the glue. The applicator tip fits inside each nail cap to fill the very tip. Nail caps come in clear or different colors. The colors make a bold fashion statement, while the clear is barely noticeable. You can coordinate the colors to the seasons or to the holidays, depending on your taste.
What Sizes Do They Come In?
Cat nail caps come in different sizes to accommodate your kitty's nails. The sizes available include kitten, small, medium and large. Choose the correct size that will fit comfortably over your cat's nails. For kittens younger than 6 months old, choose the kitten size. Those with cats between 6 and 8 pounds should choose the small size. The medium will fit most average kitties, usually between 9 and 13 pounds, while the large will fit large felines who weigh 14 pounds or more.
How Long Do They Last?
You have to apply cat nail caps every four to six weeks. The caps should fall off naturally once your cat's nails grow out and the outer sheaths of the nails are shed. If they don't fall off, you can clip off the tips of the nail caps to release them from any nails they are still stuck to. These caps can cause discomfort for your kitty if they don't shed off naturally within four to six weeks. Should any of the caps come off at different times, replace them with new nail caps. Take note of when you've replaced the caps, and on which toes, so you can keep track of when to replace them.
What Are Some Tips for Easy Application?
If possible, have someone help you prepare the caps with the glue and hand them to you while you hold your kitty. Keep Fluffy busy with some food or tasty treats while the glue dries onto her nails. Not only will this occupy her attention, but it will positively reinforce the experience of having the vinyl caps applied to her nails. When it comes to kittens, wait until they are between 3 and 4 months old to apply the caps. This way, their nails will be large enough for the caps to adhere to.