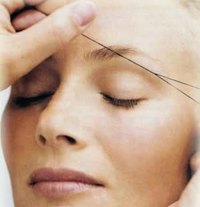 If you have facial hair you'd like to remove, threading is an effective means of doing so. You'll find threading is easier on the skin than waxing, since wax contains chemicals. It also offers more pleasing results than shaving.
Have a spool of cotton thread nearby. Remove a 24-inch piece of thread to use for threading your face.
Tie the two ends of the piece of thread together into a knot, thus making a circle.
Place the circle around all your fingers and thumbs, creating a rectangle with the thread.
Turn the rectangle around ten to twelve times, creating an "X" in the center of the rectangle.
Open the fingers of one hand and close the fingers of the opposite hand, thereby pushing the X, or wound section, closer to one hand.
Perform the same motion again, this time moving the wound section toward the opposite hand. Practice this motion several times, moving the wound section back and forth between hands, until you are fully comfortable doing it.
Bring the thread up to your face and place it near the facial hair you would like to remove.
Move the wound section back and forth between hands as you keep the thread close to the skin. You will feel the hairs get caught in the section. The hairs should come out easily on their own, though you may have to gently pull to remove them fully.
Calm the skin after you have removed the hair. Press a cool cloth onto the skin, as it may be slightly irritated.