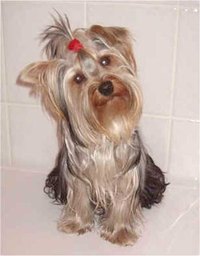 Yorkshire terriers are a relatively hardy breed when it comes to toy dog breeds. However, they are susceptible to a disability called portosystemic shunts. This congenital problem causes part or all of the blood to bypass the liver, which prevents toxins and waste material from being filtered out. Some toxins, like ammonia, can cause seizures and comas if they reach the brain. If you identify the problem early enough, your yorkie can have surgery to correct the problem or eat a low protein diet to help alleviate his symptoms.
Watch your yorkie after he eats. In the ten to fifteen minutes after he eats, he may demonstrate clumsiness, inability to focus or even lapse into a coma. These symptoms are caused by ammonia remaining in his system rather than being cleaned out of his blood by the liver. Many of these symptoms (not the coma) are typical behavior for puppies--who are often uncoordinated and lack focus--so try to compare the relative degree of the symptoms. If you are in any doubt, call your veterinarian immediately.
Check on how much water she is drinking. Yorkies with this problem drink excessive amounts of water. Being small dogs, they are easily dehydrated anyway, so you should also look for extremely frequent urination. Although yorkies and yorkie puppies are very small, they should not need to go every ten minutes. If you are in doubt about whether or not your yorkie may have this problem, contact your vet quickly rather than risk waiting.
Look for lethargy. Constant tiredness, lethargy and disinterest are all extremely atypical characteristics of yorkies. If your puppy or dog regularly or always displays these traits, something is almost certainly wrong with your dog.
Note uncontrolled shaking. This may indicate that your dog is having a seizure, which can happen when his "poisoned" blood reaches his brain. While many small dogs experience tremors when they are frightened, stressed out or just generally overwhelmed, this shaking is generally not excessive and can often not even be seen by an onlooker, only felt by someone holding the dog. If your dog is experiencing extreme, uncontrolled shaking then take him to a doctor immediately.
Take blood and urine samples to the vet. A veterinarian can determine quickly and easily if your yorkie has portosystemic shunts by testing samples of blood and urine. If your dog does have this problem, you can adjust her diet to accommodate it and you will need to work with your vet to decide if surgery is a viable option.