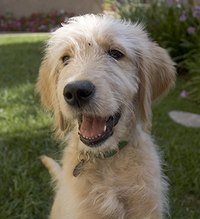 Canine renal failure occurs when a dog's kidneys begin to fail him. This prevents toxins from being filtered out of his system and being eliminated through urination or defecation. Instead, the poisons stay in his system and can make a dog very sick or even kill him over time. Identifying renal failure in dogs can be difficult because the symptoms mimic those of many other health problems. If you suspect your dog has renal failure, bring it up to your vet immediately. The treatment is largely dietary and not difficult to implement once you have diagnosed the problem.
Look for excessive drinking. Renal failure is generally accompanied by excessive drinking and, subsequently, excessive urination. If your dog is drinking more than usual--even when he has been inside and is not hot or tired--then you may have a problem on your hands. Also, if your dog has been housetrained but starts leaving puddles around the house, this may be a sign that her kidneys are acting up.

Note sudden, rapid weight loss. Most dogs do not lose weight unless you change their diet from what they are used to or dramatically up their daily amount of exercise. If you have not done either of these things but still notice your pooch slimming down, then keep an eye on him for other signs of potential problems.
Keep track of refusals to eat. Dogs that refuse to eat for extended periods of time are experiencing some type of stress. Particularly if you cannot tempt your puppy with favorite treats or regular dog food, it may be time to take her to the vet.
Look for frequent vomiting. While most dogs vomit from time to time, constant, regular vomiting is a good sign that there is something going wrong with their systems. If you notice that your dog is vomiting daily or even more frequently, you should take him to the vet immediately.
Take your pet to the vet for monthly examinations. Canine renal failure is identified through blood testing and monthly examinations. Once the veterinarian has determined whether or not the issue is kidney related, you will then be able to begin treatment. Often, treatments can slow the disease dramatically and give your dog many more happy years.