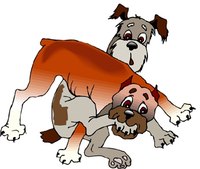 Dogs can get constipated just like humans. It can be something they ate, like grass or sticks, or the anus may be blocked and incapable of passing stool. This is common in dogs with long hair. The dried stools in the fur can partially or completely block the anus. If your dog has not had a bowel movement recently, follow these steps to determine and treat the cause.
Things You'll Need
Old towels or sheets
Gloves
Scissors or clippers
Nozzle or hose
Washcloth or paper towel
Fiber
Find a comfortable place to check your dog's rear end. Cover the floor with towels or an old sheet. If you have extra gloves, you should put them on to do this.
Secure the dog. If your dog hasn't had a bowel movement in a reasonable time, he may be sore or moody and particularly sensitive to touch. If you can, have a second person help you restrain the dog. Whether you are doing it alone or with a partner, you want the dog's head away from you and his body to be still.
Using scissors or clippers to gently and carefully clip the hair away from the anus.
Once the hair is trimmed away from the anus, use a hose nozzle and gently spray around the anus to wash away anything that is stuck or clumped. Be prepared to wipe it away with a wet washcloth or paper towel after it loosens.
After you've cleaned the anus area thoroughly, give your dog at least 24 to 36 hours to have a bowel movement.
Watch your dog carefully. If he has not had a bowel movement within 36 hours after the cleaning, call a vet for guidance.