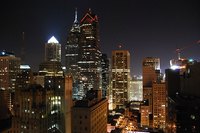 Philadelphia may be known as the city of brotherly love, but it is quickly becoming known as a place where anyone can make easy money by selling gold jewelry. The market price of gold is higher than it has been in years, and many people are making big profits over the price they paid for gold jewelry just a few years ago. Even if your jewelry is broken, damaged or missing an earring, it can still be sold for cash simply because it is gold. If you live in the Philadelphia area and have gold jewelry to sell, keep reading to learn how and where to sell your gold.
Things You'll Need
Gold Jewelry
Digital Scale
Start by weighing your gold so that you can determine how much it is worth. This should always be the first step you take any time you are selling gold jewelry. Use a digital scale to determine how many grams your gold jewelry weighs. Then check the spot price of gold at kitco.com. The spot price is usually measured by the troy ounce, so you will need to divide this amount by 31.103 to identify the market price per gram. Multiply that number by the number of grams your gold jewelry weighs and you will know the wholesale melt value of your gold jewelry. Do not accept any offer lower than this amount.
Place an advertisement in the local newspaper. All newspapers have a classified section designated for listing items for sale. This is a great place to list your gold jewelry as being for sale, not only because it will be seen by a local audience, but because you will likely get a higher price for your jewelry if you sell directly to an individual rather than to a store. There are 10 newspapers in the Philadelphia area in which that you can place classified advertisements. The most important are the Philadelphia Daily News, the Philadelphia Tribune and Philadelphia Weekly.
Post a copy of your ad on Craigslist. Having a classified ad on Craigslist is exactly the same as having a classified ad in the newspaper, except that it is online and free. There is an area of Craigslist set up specifically for the Philadelphia area, and within that section is a place to post ads about jewelry for sale. This means that your ads will be seen by Philadelphia locals interested in buying jewelry.
Take your gold jewelry to various jewelry stores in Philadelphia. Jewelry stores are a great place to sell jewelry that is in good condition. You often have a choice between just selling the gold jewelry, or having it sold in the store on a consignment basis. Selling on consignment will often get you the most money, but can take a while before someone buys your gold jewelry. Some of the jewelry stores you should definitely visit in Philadelphia include Barsky & Son Jewelry (215-925-8639), Safian Rudolph Jewelers (215-627-1834) and Max Weiner Jewelers (215-627-6910).
Visit pawn shops in Philadelphia to see how much money they will pay for your gold jewelry. Pawn shops will often buy any form of gold by weight, especially if it is gold jewelry. The problem is that they typically try to offer a low-ball price, so be prepared to tell them that you know how much your gold jewelry is worth to better negotiate a fair price. Some of the more well-known pawn shops in Philadelphia include Cash Express Pawnbrokers (215-922-1560), iSold It (215-923-2222) and Society Hill Loan (215-925-7357).